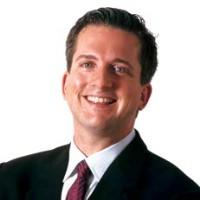 Bill Simmons is our inaugural participant in a new recurring feature we call 5QQ – Five Quick Questions. Simmons is a columnist and podcaster for Page2 on ESPN.com and a former writer for ESPN the Magazine. He is known by the nickname "The Sports Guy" (formerly "The Boston Sports Guy"). His ESPN.com column is written from the viewpoint of a passionate Boston sports fan, and often uses extended analogies and references to pop culture.
1. How do you get your first news of the day?
ESPN.com, RealClearSports, hoopshype, Buster Olney's baseball blog, Mike Lombardi's football blog, Deadline Hollywood Daily, Drudge Report, TV Tattle, Google Trends, my Twitter page.

2. Either/Or (you gotta pick one!): Letterman or Conan; Blackberry or iPhone; Oprah or Ellen; Time or Newsweek?
Letterman, Blackberry, Oprah, Newsweek.
3. What's the biggest story the media has missed this year?
The potential of Twitter. Old-school media doesn't get Twitter at all. A lot of people still think it's a fad and it's totally not a fad. Cocaine was a fad. The Osbournes were a fad. Auto-asphyxiation was a fad…. well, unless you were David Carradine. If anything I think we are just scratching the surface of Twitter for better and worse: it started breaking stories last spring and over everything else, that's why it won't go away. Now reporters are posting scoops on Twitter before they send the finished stories into their employers. People are not seeing what is happening here. Facebook is a social network; Twitter is a media/marketing vehicle disguised as a social network.
4. Obligatory Twitter Question: Describe yourself in 140 characters or less (hash tag optional!)
Could have become Sonny or Fredo, turned out to be Michael. (Wait, Michael killed a bunch of people! Crap. I need to think about this more.)
5. Are you nervous or excited about the future of Journalism? Why?
I'm terrified. I think it's going to hell in a hand basket. The emphasis is on quantity over quality and immediacy over accuracy; the newspapers have made it worse by trying to speed up their immediacy online over just kicking everyone's asses with better writing and reporting. Newsmakers can control stories about themselves by selectively dispersing relevant information as well as who gets to talk to them (and for what reason). And too many writers are more interested in just saying what they have to say instead of crafting the way they are saying it. It's a comedy of errors. I thought Season 5 of The Wire painted a bleak picture of where this is going, but even David Simon couldn't have believed that it would get this bad this fast. I would say "nervous."
Check out Bill Simmons' current standing on the Mediaite Power Grid
Have a tip we should know? tips@mediaite.com