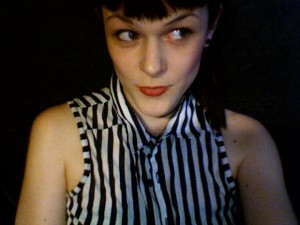 After nearly two years with Mediaite (my first day posting, if memory serves, was at a Walt Disney World hotel), it's time for me to brush the thin film of Cheeto dust off my keyboard and bid you all good-bye.
While I can't say I'll miss the 6 a.m. wake up time or the 6-day work week, I am genuinely going to miss working with this incredibly talented group of people. I know many of you give the site's writers a tough time because you disagree with them politically or think their haircuts are weird, but just know that this crew is among the most hardworking and dedicated I've yet to meet. They are passionate about what they do here; they work hard at it. They live it and breathe it and occasionally drink it up until a concerned bartender raises an eyebrow.
These people are great, is what I'm saying. Go easy on them.
In particular, I'd like to thank Colby Hall, who showed me the ropes, helped cultivate the site's voice and character, and never failed to inspire and delight with a wardrobe best described as "monogrammed chic." Lots of sockless loafers. Whale and anchor prints. Bermuda shorts. He's got a great look, Tumblr-worthy. I also want to thank Mark Joyella and Matt Schneider, both of whom I started out with here, for helping to make this office a place I looked forward to heading to every morning. I want to thank Nando DiFino for taking me under his wing, for being so effortlessly cool, for being so incredibly kind, for almost making me care about sports.
I want to thank Jon Bershad for making me laugh (I will never listen to Karmin without losing my mind), Jamie Crugnale for introducing me to Riddles and the miracle of Buffalo-flavored pretzel bites. I want to thank Frances Martel for inspiring me, daily, and for being the most principled and self-possessed person I know, for listening to me and laughing with me and for keeping me up to date on what Blagojevich's hair is up to. I want to let you all know how exceptional Meenal Vamburkar is — how dryly funny, how hardworking, how tireless, how inspiring a muse for Jeff Poor's Twitter revelations. I want you all to understand how savvy Josh Feldman is, how dedicated, how prolific and talented a writer. I want you to give Noah Rothman props for being so passionate about and committed to covering politics, and I want to wish him well as he embarks on a new chapter of his life. I want you guys to know that Andrew Kirell isn't just our resident hipster libertarian, he's also an all-around solid friend, despite his love for Bruce Springsteen. I want to thank Laura Donovan for totally getting my obsession with Pretty Little Liars marathons, for weathering storms both literal and metaphorical. I want to thank Tommy Christopher for keeping me on my toes, for injecting humor into political coverage, and for that one Star Wars pun. I want to thank Glenn Davis for totally getting it, and for almost #votinghorse.
I want to thank Jon Nicosia for all he does for this site, and I want to give a special thank you to Dan Abrams for giving me the opportunity to work at a place I've loved.
And I want to thank you — our readership, our commenters, our tipsters, our dream and our nightmare — for visiting us and supporting us and helping us become better. It's been a pleasure and a privilege writing for you, occasionally engaging you in the comment threads, and antagonizing you on Facebook (hi, Ralph!). I want to thank you for putting up with this probably tedious string of inside jokes. This one's for you, guys.
I am grateful. I am thankful. I am ready to sleep in past 6 and eat oh my goddess so much turkey.
I can't announce what I'm up to next quite yet, but I have some fun things in the works and I hope you'll follow me on Twitter if you're interested in finding out what those might be. Let's be friends, swap puns, throw shade, and promise to vote for Jon Huntsman.
Sincerely,
Your resident libtard neocon libertarian anarchist fascist Nazi socialist pinko-commie gay Mexican Spanish Senior Morning Editor
Let's end this on a glamorous note, shall we? We shall:
Have a tip we should know? [email protected]