Alter-native Reality: In Attempt To Nail Ailes, Jonathan Alter Better Served Muting Himself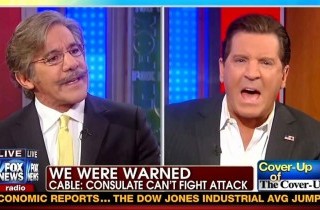 As the old saying goes, there are three sides to every story:
Your side.
My side.
And the truth.
So when you read Brian Stelter's column in the New York Times highlighting a chapter in Jonathan Alter's new book, and learn of the author's claim that Fox News President Roger Ailes — one of the most powerful men in media — made a direct order to a control room producer to have one of his own anchor's microphones shut off, that obviously deserves some more digging.
Fear not: Stelter—not exhausted yet from Tweeting minute-by-minute details of his media tour promoting his new book on morning television (already 42 percent off on Amazon)—is a pro. He'll undoubtedly present a fair and balanced (pun intended) account of what really happened after Geraldo Rivera and Eric Bolling turned a segment on Fox & Friends in November into the verbal version of WWE Raw over what really, really happened in Benghazi.
But while Stelter has some nice access over at MSNBC, Fox News probably feels like Pyongyang to him when it comes to getting information from the media relations folks over there. Why? Because Stelter has never been kind to Fox News, which isn't a shock given his current employer's perceived ideology (the New York Times hasn't endorsed a Republican Presidential candidate since 1956).
So without a Fox statement on the issue, Stelter reported only Alter's side of the story:
Alies didn't enjoy Geraldo's perspective on the Obama Administration's reaction to Benghazi (passionately stating it wasn't at fault) and figured since Rivera wasn't lock-step with the conservative narrative on the issue, it might be a good idea to censor him on live television…because, you know, no one watching at home would notice Geraldo moving his mouth and not hearing anything come out of it.
From Stelter's NYT column:
As the three [Fox & Friends] hosts criticized the administration for failing to save the ambassador Christopher Stevens and three other Americans who died in Benghazi, Mr. Rivera protested. He accused the co-host Eric Bolling of lying, calling him "a politician trying to make a political point." "After the argument continued for several minutes, Ailes called the control room and told the producers to cut Rivera's mic," Mr. Alter writes.
When confronted by media blogger Johnny Dollar on Twitter about exactly where Rivera's mic gets cut on the video of the segment, Alter said he had seen it but the clip had since been taken down. That appears to not be the case, as the video timestamp indicates it being up on the site since November 2nd of last year.
In trying to get the FNC side of the story, Stelter would only say that "A Fox spokesman would not respond for comment."
But in the world of Twitter, Stelter—a big fan of social media—could have reached out directly to Rivera or Bolling directly, but apparently chose not to. From what we're seeing, each man appears to be more than eager to talk about what happened.
Not surprisingly, both state they weren't instructed on what to say or not say beforehand, nor were they given instructions beforehand on what was and wasn't off-limits. Most notably, Rivera specifically states his mic was never cut off.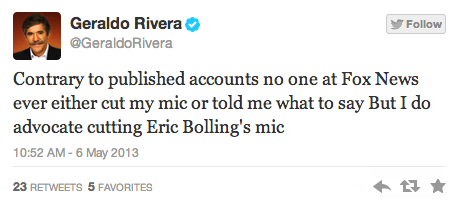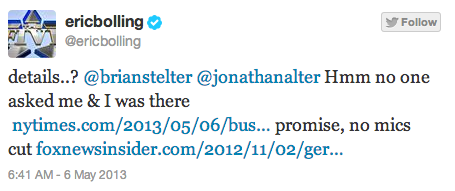 Given the kind of unfiltered arguments we've seen in the past on FNC, all of these claims sound reasonable. The recent O'Reilly-Colmes battle in primetime serves as a prime example of dissent being more than allowed on Fox. It's that avoidance of the echo chamber that has helped Fox dominate for the past decade.
But in order to truly settle this objectively, let's simply look at the footage of the incident to see if Geraldo's mic was, in fact, cut. And we're not talking about the inconclusive clip that gets cut off before the very end of the segment, but the full video that takes us through the entire segment:
And the final 30 seconds:
Watching…
Rewinding…
Watching again…
Yup, Geraldo is completely audible throughout the entire thing.
So did Ailes call the control room, as Alter claims? According to Fox sources contacted by Andrew Kirell of this publication, it wasn't Ailes, but Fox EVP Bill Shine who picked up the phone. According to Fox, his call wasn't to mute Geraldo, but to instruct producers to wrap up the segment (which was getting far too loud, far too heated for any morning show as it approached its 7th minute). From Kirell's piece that went live earlier:
Mediaite has learned that Fox Chairman & CEO Roger Ailes never called the control room that morning, Bill Shine (EVP of Programming) did. He never ordered Geraldo's mic to be cut, he called to say let's move on, the segment had come to its conclusion. The amplified back and forth with one anchor calling another a liar made for bad morning television and Shine felt they'd lose the audience at that hour if it continued.
Speaking of wrapping up, let's look at what we've learned:
Alter says Rivera's mic was cut off by Ailes…
Video shows Rivera's mic was never cut…
Fox says Ailes never called the control room, but an EVP of the network did out of fear a screaming match seen anytime between 5:00 AM and 8:00 AM in the morning might alienate viewers (or at the ever least, exacerbate thousands of hangovers across the country).
Alter originally claimed he couldn't find any video of the segment.
Most of it was available on the Fox News web site, while a full-length version could be found on YouTube as easy as cuddly kitten videos.
Hopefully this isn't a preview of future factual errors in Alter's book for the sake of Simon & Schuster's legal department.
According to Twitter, Stelter still hasn't bothered to watch the full video showing Geraldo unobstructed. Instead, he's asking for a correction from Mediaite.
What needs to be corrected isn't quite clear…
And so goes another day in the world of cable news and the people that cover it.
Some write books.
Some write columns.
All have one thing in common:
There's usually going to be three sides to every story…
— —
Follow Joe Concha on Twitter @ConchSports
—-
Editor's note: This post has been edited since its original posting – Jon Nicosia
Have a tip we should know? tips@mediaite.com