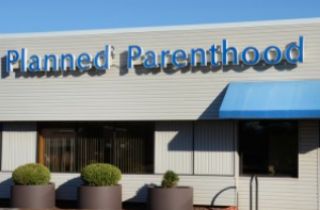 The preeminent feminist buzzword and cause célèbre of the past few years has been "slut-shaming." The basic thrust is this: society engages in a sexist and one-sided denunciation of women who openly discuss or celebrate their sexuality, while men get a free pass. It would be an understatement to say that modern feminists' denunciation of slut-shaming has reached obsession levels; a Google search shows that Jezebel has written 1,610 articles on slut-shaming, and Wonkette 946 since 2012.
But apparently, slut-shaming is perfectly okay when Planned Parenthood's respectability is on the line.
Many of the worst revelations throughout the Planned Parenthood sting videos came from a former employee of Planned Parenthood partner StemExpress (whose name I'm withholding from this piece, for reasons that will soon become evident). Among the horrible things the disillusioned employee accuses the company of engaging in is dissecting a fetus with a still-beating heart and harvesting fetal tissue without patients' permission.
Enter RH Reality Check, a popular pro-choice blog portal and advocacy group. They uncovered evidence that the employee had accounts on OKCupid, a popular dating website, and FetLife, a website for people with sexual fetishes. They quickly realized that the info had no bearing on the topic at hand, and publicizing it would amount to "slut-shaming" that they and so many other pro-choice activists had denounced throughout the years, and that… who am I kidding, they wrote an article about it.
The original piece is gone now, after it predictably ignited a firestorm of outrage. But here's RH Reality Check editor-in-chief Jodi Jacobson crowing about their scoop on Twitter.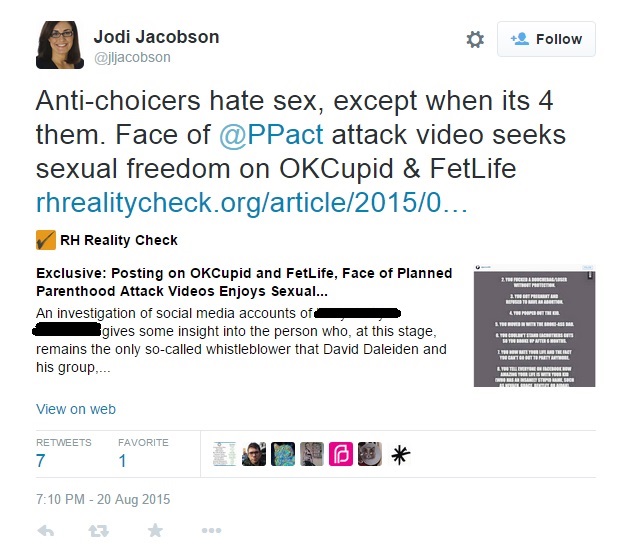 Even when Jacobson "apologized" for posting the article, she basically stood by her rationale for publishing the article and accused the right of slut-shaming: "The far right, of which the anti-choice movement is a central part, focuses on shaming people who engage in sex for pleasure, for managing their fertility, or for loving whom they love. The obsessive focus of the right on eliminating access to birth control and abortion is but one part of this agenda."
First is of all, it's only in pro-choice activists' deluded minds that people who are opposed to abortion "hate sex." They obviously tend to have quite a bit of it, and many even (gasp!) have children as a result. The only thing they hate is when the human products of that sex are treated as a mild inconvenience to be discarded of, chopped up for organs, and shipped off for a profit while the perpetrators sit on half a billion in taxpayer dollars.
I suspect RH Reality Check knows this on some level, and that the anti-sex line is just their flimsy excuse. The best case scenario is that they went digging for any kind of dirt on the former employee, found something embarrassing, and concocted some twisted and illogical reason why it had any bearing on the discussion.
I say best case, because the worst case scenario is that while activists released video after video of Planned Parenthood executives laughing about butchering dead fetuses, haggling over prices, picking gruesomely through dead fetuses for organs, and promising to break federal laws designed to protect women in order to generate more organs, the entire time pro-choice activists were actually thinking, "But what about consequence-free sex?"
But more importantly, RH Reality Check might have some vague, generic notion that right-wingers are all asexual woman-hating monsters. What they don't have is any evidence that the employee felt that way at all. There is no evidence that the employee was anything other than she claimed to be: someone who cared so little about the abortion industry that she worked for a fetal donation clinic, but later became horrified with what she had done.
The somewhat insulting implication is that the only people who could saw a fetus' face in half to harvest its brains and then become disillusioned are right-wing nutjobs, and that only right-wingers care about abortion at all, and that reasonable people like Hillary Clinton can't be simultaneously pro-choice and disgusted with Planned Parenthood's actions. But once you've decided that anyone who attacks the nation's largest abortion provider for any reason is some evil conspirator in the wars against sex and freedom, you can treat them like subhumans and submit them to low, sexist attacks… all in the name of women.
And gee, a pro-choice group treating someone like they're less than human? Shocking, I know.
UPDATE (1:34 PM ET): Oh geez. After finally tracking down the deleted blog post, it's even worse than I originally imagined. The piece specifically notes that the employee is pro-choice and supports gay marriage, a.k.a exactly the opposite of the "anti-sex" conservatives they think it's okay to slut-shame.
"Her accounts contain images of Hitler, include posts indicating eugenicist sympathies, references to abortion that are most accurately described as ambivalent, as well as considerable sexually explicit material," RH Reailty Check claims.
Are you ready for these horrible, Jew-hating images of Adolf Hitler?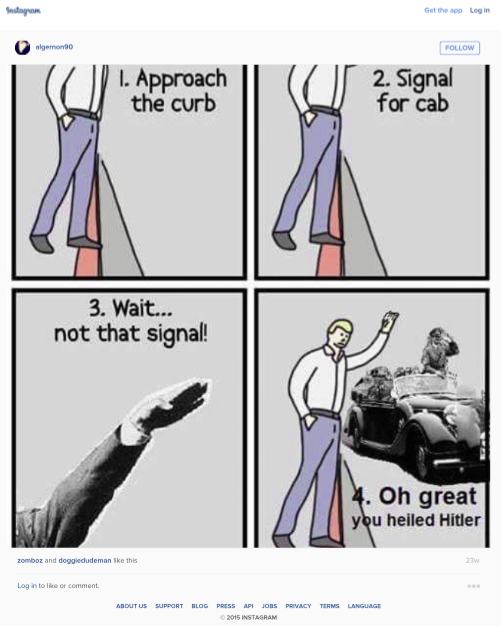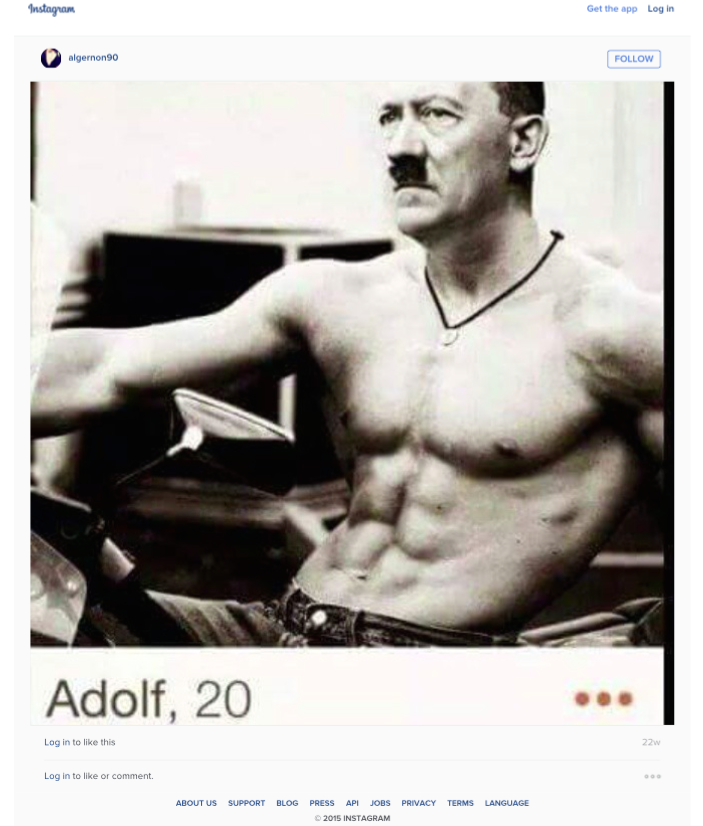 These are what I believe sane, rational adults call "jokes."
As for the evidence of "eugenics" posts, that's even flimsier: "The nature of Instagram makes it difficult to determine [her] intentions in posting these images—or others, that criticize Black protesters at Ferguson, Missouri, rallies or the multiple pictures that feature guns. Some posts could be interpreted as racist, mocking names most frequently associated with Black culture."
This wasn't a misguided article. This was slander, plain and simple. Were I the employee, I would be shopping for lawyers.
[Image via screengrab]
——
>>Follow Alex Griswold (@HashtagGriswold) on Twitter
Have a tip we should know? [email protected]