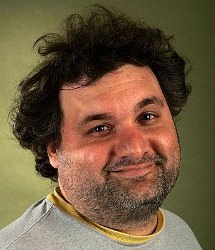 Will Artie Lange ever return to The Howard Stern Show? It seems less and less likely that Howard Stern's comedian sidekick will ever return to the Sirius/XM satellite radio broadcast, which airs Monday through Thursday mornings and is available to over 20 million satellite radio subscribers.
Lange, who has a long history of drinking, drug abuse and depression (comedic gold!), has been absent from the show since well before the new year. Until last Thursday, there was little on-air discussion of the reason for his absence, but followers of the show know that when Artie is missing work, it is usually a sign of impending bad news for the chronically troubled comic. Past relapses into heroin addiction and previous episodes of depression and other troubles have usually started the same way.
When the story broke last week, however, that Lange had been hospitalized after stabbing himself nine times in an apparent suicide attempt Stern broke his silence to offer his thoughts on the news, and the fact that Lange's troubles had in fact been made public.
Saying "I don't know what to do in this situation; there's nothing to do… Artie's demons run deeper than I ever knew," Stern found himself unable to tell the story describing Lange's suicide attempt on the air Thursday morning, which, according to Lange's bestselling book "Too Fat to Fish," was not his first.
What was perhaps most notable, however, in Stern's comments on Lange's latest crisis, is that for the first time Stern was talking about Lange's time on the show in the past tense: "You could make a list of all the things Artie contributed to this show," Stern said. Later he added:
The reason that I hired Artie Is because right away from day one… He came in… He was a fan of the show so he knew the show… He fit himself in a way that was inobtrusive [sic]."
Talking about Artie's time on the show as something in the past signals change of tone, as in the previous weeks Stern had indicated that for all he knew Lange had not quit the show, joking more than once that he was leaving Artie's microphone on, Elijah the prophet style, in case he happened to show up.
There is not much time left, however, for Artie to recover and get back to work, if in fact he is still welcome. This is the last year of Stern's current contract with Sirius, and he has been grumbling for months about not returning. Whether this is just of the King of All Media's standard on-air negotiation tactics or a signal that a change is coming is yet to be seen.
What is clear, however, is that Artie's empty seat is asking to be filled. Stern even joked briefly about asking Lange's much maligned predecessor, Jackie Martling, to sit in before he thought better of it.
It seems likely, however, that given the trajectory of his general well-being and Stern's almost funereal tone when discussing the topic, that he will not be back:
'I don't want this to sound like a eulogy, by the way. Artie's alive. It was a suicide attempt… I just had great admiration for Artie's talent and the way he fit into the show. I figure if artie want to talk to me he's gonna call me… I don't know what's gonna be… I'm upset. I've been down about it. "
Maybe Robin Quivers, Stern's long time co-host, said it best: "A lot of times we are the first people to tell people of others tragedies… This is what its like when its happening to you. You don't want to talk about it."
Ash Kalb is the general counsel of a New York-based telecommunications and technology company and an instrument-rated pilot. He writes about geeky things for Mediaite.
Have a tip we should know? tips@mediaite.com