Bernie Enjoys Winning Media Week; Faces Fox's Wallace Next As Hillary Continues to Hide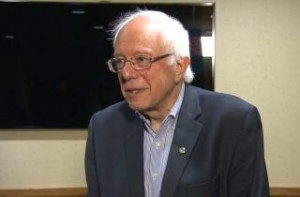 If his sit-down with Fox's Chris Wallace is any indication, Bernie Sanders continues to be one step ahead of Hillary Clinton, especially on the media front. This as a new poll shows the Vermont senator now tied with Clinton in next-up Nevada, 45-45.
The poll — albeit conducted by the conservative Washington Free Beacon — is still a shocker considering that Hillary once led Bernie by 54 points in Nevada. 54. Needless to say, the wind behind Sanders' back is now at gale force following his 21+-point blowout of the former Secretary of State in New Hampshire. And from a media perspective this week alone, he's making all the right moves in terms of reaching different kinds of audiences: Saturday Night Live with Larry David, a highly-publicized breakfast meeting with Al Sharpton the morning after the win in NH, The View later that morning… all with the usual interviews across CNN and MSNBC sprinkled in throughout the week.
But arguably the biggest moment of Bernie's recent media schedule will come on Sunday morning when he joins Wallace––arguably the best, most objective, pound-for-pound interviewer in the game regardless of party or subject––on Fox News Sunday. It's obviously a bold move by Sanders to go where some Democrats deem as enemy territory. But Bernie knows Wallace won't grandstand or showboat or turn the discussion into a circus, having appeared on the program once before since announcing his candidacy last spring.
In the end, this will likely be a professional discussion between two old pros focused almost entirely on policy. Just a guess, but it's 1-5 odds here that Wallace tries to extract specifics from Sanders on how he'll pay for all his proposals from free tuition at all public colleges and universities to expanding Medicare to all Americans. "We'll put a tax Wall Street speculation" likely won't suffice. Foreign policy questions — Sanders' obvious weak spot against Clinton — will likely be an extensively visited topic as well.
However the interview turns out, and Bernie's authenticity, grasp and passion around his policies makes forcing him into an ill-advised soundbite almost impossible if the past ten months are any indication, the 74-year-old deserves kudos for agreeing to appear. It shows his supporters and potential voters he'll debate and discuss his vision anywhere, anytime as he attempts to broaden his appeal. And while this is happening, in contrast, Hillary Clinton remains the only candidate left on both sides not to appear on Fox in any capacity since announcing her run for president (last appearing in June of 2014).
Baier was right to ask Democratic National Committee Chairwoman Debbie Wasserman Schultz if she would consider having Hillary and Bernie debate on Fox. As The Washington Post's Erik Wemple put it in a column advocating the same yesterday:
Nearly a quarter of the Fox News audience, according to Pew, is Democratic and nearly a quarter is moderate. Check out the bulging population of independents, as well. One group alone hasn't vaulted Fox News to the very top of its industry, contrary to popular misconception. Why doesn't the DNC want to reach these groups, as well as the core Fox News audience?
Sanders seems to understand this concept. Delegate/Superdelagate count aside (Clinton's 352-delegate lead is such an embarrassment to the party at this point since she's basically 0-1-1, including that 20+-point loss in New Hampshire last week), he knows he's dominating among millennials and among the Elizabeth Warren/left flank of the party. He's gaining among minorities, picking up some notable endorsements (Danny Glover, Michelle Alexander, Ben Jealous, Harry Belafonte, Keith Ellison, Eric Garner's daughter, etc). He won nearly 75 percent of self-described independent voters last week in New Hampshire.
Going on Fox News only expands the tent. Bernie shows brass… while Hillary continues to hide. From a media perspective, the underdog (maybe for now, anyway) is having a very, very good week.
— —
Follow Joe Concha on Twitter @JoeConchaTV
Editor's note: Mediaite will be covering Sanders' Fox interview tomorrow morning.
This is an opinion piece. The views expressed in this article are those of just the author.