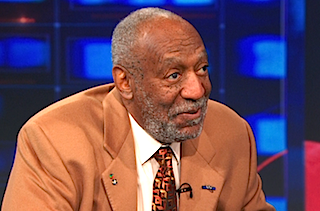 The allegations of rape against Bill Cosby date back decades, but they have only become a national news story in recent weeks. There are a few reasons for this. One, comedian Hannibal Buress happened to do a stand-up bit calling Cosby a "rapist" that went viral. Two, Cosby's social media team attempted a meme challenge that backfired spectacularly. And three, one of his accusers, Barbara Bowman was empowered to speak out against him in the Washington Post, on CNN and elsewhere.
In the past few days, however, speculation has been bubbling up that mainstream media coverage of the Cosby story could be politically motivated. Rush Limbaugh said as much on Friday, accusing CNN of trying to "destroy" Cosby with its reporting on the story.
Limbaugh said:
"Bill Cosby has numerous times in the recent past given public lectures in which he has said to one degree or another that black families and communities had better step up and get hold of themselves and not fall prey to the forces of destruction that rip them apart. And basically he started demanding that people start accepting responsibility. And the next thing you know he is the nation's biggest rapist as far as CNN is concerned."
Listen to audio below, via The Rush Limbaugh Show:
But, it is not as though Cosby's politics have factored into any of CNN's coverage of the rape allegations. And, as I pointed out previously, Don Lemon, who has been the CNN host leading much of the Cosby coverage has expressed similar sentiments to Cosby about personal responsibility in the African-American community.
On Tuesday, Fox News' Howard Kurtz furthered this narrative with an online column and video headlined, "Why liberals are turning on Bill Cosby over rape allegations." In Kurtz's view, "Conservatives, who admire the way that Cosby has spoken out against dysfunction and lousy parenting in black families, are skeptical" of the allegations, while "liberals, who view themselves as champions of women's rights, are abandoning" the comedian.
Watch video below, via Fox News:
The reality is that nearly every media commentator is "abandoning" Cosby in light of the mounting allegations against him. The general consensus seems to be that this many women claiming he assaulted them in similar ways are very unlikely to be making it up. And the lack of sympathy for Cosby only deepened after he refused to even deny the accusations with a verbal response during an interview with NPR's Scott Simon over the weekend.
Rush Limbaugh is the only conservative defender of Cosby that Kurtz is able to come up with. If there is any other prominent media figure who could be seen as defending the comedian in the past few days, it would have to be Whoopi Goldberg, who expressed her "skepticism" over the women's claims on The View yesterday.
But rather than doing it for political reasons — she is about as far from Limbaugh as it gets — Goldberg was giving Cosby the benefit of the doubt because of his status as a celebrity. "One of the things that getting accused of when you're famous does is it opens the door for everybody to come out and say, 'me too, boss,'" Goldberg asserted, repeatedly says she has "a lot of questions" for Bowman.
Kurtz concludes his column by writing that Cosby's "status as a polarizing figure in the debate over race and poverty" is deepening the divide between people who want to believe that he is innocent and those who want to see justice for those accusing him. But I would argue that this is one story that is not about left versus right.
For the vast majority of Americans, Cosby is not a political figure. He's Dr. Cliff Huxtable, the warm, loving, funny father figure from The Cosby Show, one of the most popular sitcoms of all time. In the same way that many people refuse to believe Woody Allen molested his adopted daughter because they love his films so much, many more find it hard to see Cosby as anything other than his TV persona. If you believe Bowman and the others, that is precisely what has made it so hard for them to seek justice.
In the end, Cosby's personal politics have nothing to do with the question of whether he drugged and raped more than a dozen women over the last 45 years. The media should recognize that fact and keep his political views out of the conversation.
UPDATE — 5:25 p.m. ET: Howard Kurtz reacted to this column on Twitter Tuesday afternoon:
I agree Cosby's politics shouldn't affect Q. of whether he's a rapist. Just reporting liberals are leading the charge http://t.co/PKHFQybvb5

— HowardKurtz (@HowardKurtz) November 18, 2014
[Photo via screengrab]
— —
>> Follow Matt Wilstein (@TheMattWilstein) on Twitter
Have a tip we should know? tips@mediaite.com