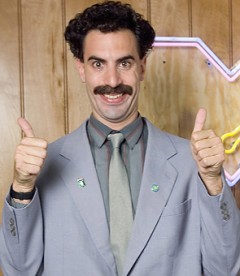 There is a scene in the movie "Borat" when the hapless crew is running out of money. His producer tells them they will need to get more money from Kazakhstan. Now this was a scene that I found unintentionally hilarious. I found it hilarious because there should only be such a thing as a government willing to pay a journalist to make a documentary on America.
I work with real-life documentarians who visit the United States, but they come here at the expense of the American taxpayer through the U.S. Department of State. Only journalists from such wealthy countries as Japan usually make it here otherwise. However, as with so many government programs these days, the program has struggled with shrinking budgets and rising costs. At the same time, foreign journalists seem more eager than ever to come to America to film stories that can help their countries find solutions to their problems as well as to help their audiences learn more about America. That brings me to Murat Umarov.
Murat is a television journalist from the Central Asian country of Tajikistan. He is in America and works now for a small poorly funded private press agency called "Asia Plus." He has also worked for the Tajik state TV channel, "Khovar". Murat has spoken to me with great eagerness about how he wants to travel around America and film stories about it for his predominantly Muslim country of seven million people. Indeed, Tajikistan is growing in importance to the United States; per the U.S. State Deparment: "The two countries now have a broad-based relationship, cooperating in such areas as counter-narcotics, counter-terrorism, non-proliferation, and regional growth and stability." This summer, the State Department reaffirmed its commitment to providing aid to Tajikstan. It makes sense for the two countries to understand each other.
Murat could not be more unlike Borat. He is an urbane and formal man who lived in Turkey and enjoys learning languages. He is already learning English very quickly. We met one evening in a bar with many beer taps and I watched as he put his reading glasses on and examined the heads of the beer taps to admire the artwork. Murat is like many foreign journalists I meet in terms of what he wants to see in America — New York, American Indians, etc. I've tried telling him that he really needs to move beyond such clichés. I tell him about places in America like Vermont, Austin, New Mexico, Philadelphia, and others that he knows little about. He is a little overwhelmed by how much there is to know, but he is eager to know it all.
While I have this discussion with Murat I can't help but grow a little depressed. Murat expects to finance his travels across America with grant money. I know all too well how difficult it is to find funds for such a venture. The simple truth is there is no foundation that funds documentaries to help people overseas better understand and appreciate America. There are numerous funding sources for American producers who want to film a project about a foreign society for an American audience, but not the other way around. I know because I have been down this road many times. The same week I spoke with Murat I received a call from a Russian documentary film maker and bicycle adventurer who is eager to cycle in Alaska and on the west coast and film it for a Russian audience. He's still looking for financial help. I tried getting funding for Murat through the State Department, but there was none available and nobody that I spoke with had any idea as to where he could get any.
Sasha Baron Cohen had a budget of $18,000,000 to spoof a Central Asian journalist's travails in America and grossed $130,000,000. When I produce a 22 minute long program for the State Department I am lucky if I can get $30,000 and it will gross nothing. The results, however, are a priceless opportunity to show people sides of American life that get lost in the pop culture version of America that people overseas are exposed to. It's time for those who care about America, especially those who produce documentaries, to turn their talents to making it possible for private sector initiatives to educate and inform overseas audiences about who we really are as a people. We speak a great deal in this country about the need for people to not always rely on our government. We should not be relying on the American government to do the job of telling our country's story.

Mitchell Polman has worked as a producer on State Department sponsored media projects. He frequently writes about public diplomacy issues. Mitchell has studied international affairs and specialized in Russian and East European relations. Additional articles by Mitchell may be found at USCPublicDiplomacy.com and UnderstandingGov.org.
Have a tip we should know? tips@mediaite.com