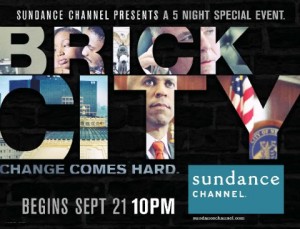 Newark is a city in transition and at the center of that transformation is its mayor, Cory Booker. Crippled by riots that took place in 1967, the city struggled to recover and it was only until recently, almost a half century later, that Newark has begun to rise again. Booker's sweeping reforms in city government and law enforcement have made Newark the leading city in America for violent crime reduction. In 2008, Newark had its lowest murder rate since 1959.
Booker is active in social media, he does regular videos which he posts on his website, and most recently got a fair amount of attention for a video where he humorously puts late night host Conan O'Brien on Newark's "no-fly" list. Booker has been blogging since August of last year and has interest in curating a Tumblr for the city of Newark. Booker is very active on twitter, with close to 800,000 followers, putting him in the category of the top 200 most followed people on the micro-blogging network. As I write this column, Booker tweeted that he took justice into his own hands after witnessing someone trashing his city.
The real story of modern day Newark is chronicled in "Brick City", a documentary that ran for five consecutive nights on the Sundance Channel, presented by Academy Award winner Forest Whitaker, who is also the executive producer of the series. The name "Brick City" comes from the architecture in Newark as well as the toughness and resilience of it's residents.
The show focuses on Booker, along with a couple of other characters that define the city's rebirth. Garry McCarthy, the Police Director of Newark finds himself in a political battle with police chief Anthony Campos for control of the police department. McCarthy was the former Deputy Commissioner of Operations of the New York Police Department. Under his administration, McCarthy manages to reduce murder by 37% and shooting victims by 32% in Newark, a record for a city of Newark's size. Born in the Bronx, McCarthy is seen as a New York outsider by some, he's challenged at a community meeting for not doing enough to stop crime. His results speak for themselves, but there are some in the community who are not convinced, either for political reasons or because he wasn't born and bred in Newark, the same reasons we witness some opposition to Booker.
An unlikely love story between a Blood named Jayda and a Crip, named Creep is another central storyline woven through the series. Jayda got involved in gang life at a young age and wound up in juvenile detention at the age of 11.  After a brief stint in Brooklyn where she becomes a member of the Bloods, she gets into a fight with her brothers and settles in Newark. Jayda decides to straighten out her life after a two year sentence, joins AmeriCorps, meets Creep, and begins mentoring 9th grade girls. Last year, Jayda launched a non-profit, 9 Strong Women, which received its first government grants. On New Year's Eve 2009, she gave birth to Layla Anyai, her daughter with Creep.
A scene where a major community organizer puts together a trip for fathers and their children to get out of the city for the day is so powerful that you'd have to have ice water in your veins not to be moved by it. The show is a real life version of "The Wire," dense in scope, gripping and filled with emotion. We witness the daily city hall battles and the battles taking place on the street, between rival Bloods and Crips as well as the police. City and street politics are interwoven, with Booker so committed to crime reduction he personally patrols the streets until times as late as 4 a.m.
I left watching the mini-series wanting more, wanting to know what happens next. Newark's story is just beginning to be told, and with "Brick City" it announces its arrival and calls on the world to be a part of it's revival.
Have a tip we should know? tips@mediaite.com