Carly Fiorina Starts 2016 With the Worst Pandering of Her Political Career (Updated)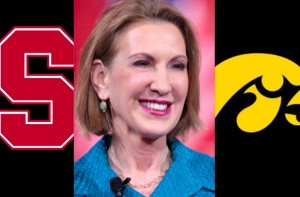 Political pandering isn't too hard of a concept to understand: candidates seeking elected office will often say or do things in an attempt to appeal to a specific group. There's admittedly always a gray area in stunts of public pandering — accusations of insincerity are subjective at best — but Republican Presidential candidate Carly Fiorina made a pretty severe and blatant gaffe that is receiving deserved mockery.
On Friday before kickoff of the Rose Bowl in Pasadena, California, Fiorina took to Twitter to express her support for one of the two teams playing. The game is being played between Stanford and Iowa, and — wouldn't you know it — Fiorina is a proud graduate of Stanford.
Then again, the Iowa caucus is only one month away, not to mention a highly-anticipated Fox News debate from Des Moines at the end of January. Guess who Fiorina tossed her weight behind?
Love my alma mater, but rooting for a Hawkeyes win today. #RoseBowl

— Carly Fiorina (@CarlyFiorina) January 1, 2016
People responded to Fiorina's shameless pandering with some messages of their own on Twitter:
@CarlyFiorina This is expert-level pandering. Very competent. I expect nothing less from you!

— JimmyNeutron (@jneutron1969) January 1, 2016
@CarlyFiorina "I'll turn my back on you to pander for votes!" Pathetic

— andyyy (@aczaj) January 1, 2016
@CarlyFiorina Disgraceful pandering. chip in $3 for that? Think Iowans are that shallow? #disloyal

— Jill Keogh (@jillkeogh) January 1, 2016
Unfortunately for Fiorina, as of the publishing of this article that very alma mater — the one she sacrificed like a poor lamb only hours ago at the expense of caucus votes — is defeating Iowa 35-0 at halftime.
UPDATE — Jan. 1, 10:33 p.m. ET: Iowa may have corn, but they certainly didn't have an answer for Stanford runningback Christian McCaffrey. The sophomore combined for a total 277 yards and a touchdown, as Stanford defeated Iowa 45-16 to become Rose Bowl champs. Following Fiorina's Twitter pander earlier in the day, the hashtag #CarlyCurse quickly spread on social media:
Who is Fiorina backing in the big 76ers-Lakers throwdown tonight? #CarlyCurse #AskingForAFriend

— Paul Demko (@pauldemko) January 2, 2016
Am I wrong to think Carly Fiorina's political legacy will be a hashtag? #CarlyCurse

— Matt Fuller (@MEPFuller) January 1, 2016
#CarlyCurse https://t.co/58RswIC21u

— Oliver Darcy (@oliverdarcy) January 2, 2016
Fiorina has not yet to respond on Twitter on the outcome of the game, or her predictive/pandering misses. January will be an Iowa-heavy month for every candidate in this primary process, so we'll closely follow how the #CarlyCurse dogs Fiorina on the ground in the Hawkeye State.
[image via Wikipedia Commons]
This is an opinion piece. The views expressed in this article are those of just the author.