Colin Kaepernick Doesn't Care About Black Lives, He Cares About Colin Kaepernick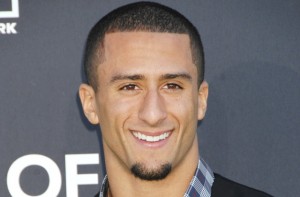 Unless you live under a rock, no doubt you've heard that San Francisco 49ers quarterback Colin Kaepernick has begun a very controversial protest this week. Kaepernick announced that he will no longer stand during the national anthem in protest of police violence against African-Americans and institutional racism. "I am not going to stand up to show pride in a flag for a country that oppresses black people and people of color," he explained.
Kaepernick is a long time advocate for the welfare of the black community, having spoken out about issues of race and Black Lives Matter extensively throughout his career.
Oh, sorry, I mispoke. I meant he's never spoken out on those issues.





As far as I can tell, the first time Kaepernick has spoken out about racial issues in his eight years in the NFL was on social media this July during the police shootings in Dallas. At that point it became almost his singular focus, with frequent retweets of Black Lives Matter activists like Shaun King and constant sharing of Instagram photos of black icons like Malcolm X.
Hey, late-life political conversions and racial awakenings aren't all that uncommon, right? But purely by coincidence, a day after his refusal to stand for the pledge, reports began to emerge that Kaepernick's future at the 49ers was extremely dim. Not for political reasons, mind you, but for "football reasons."
Jay Glazer said on FOX that the 49ers are deeply concerned with Kaepernick's decline as a player, which started last season when he struggled before getting benched, then got even worse this offseason when he lost significant muscle mass when he couldn't work out following multiple surgeries.

"Regardless of politics or not, he has a very, very big uphill battle to make this team," Glazer said. "I'd be shocked if he's on the 49ers by the time this season ends. It has nothing to do with political views whatsoever. He lost a ton of weight this offseason, had three surgeries, couldn't work out, lost that double threat, that size-speed ratio. No political views, he just hasn't been effective. He's regressing as a player. I'd be shocked if he's on this roster by the end of this year. He may not be on it in the next two weeks."
No one knows a player's body better than themselves. If Kaepernick really is so weakened from his surgeries, his loss of muscle, and his loss of weight that he can no longer compete at a pro level (and for arguably the worst team in the league), he'd know. And he'd have known for sure a month ago just before practices started up again, right around the time he became a Black Lives Matter devotee.
I'll stop beating around the bush and come out and say it: if you really think its a coincidence that Colin Kaepernick went from blandly apolitical to staging a headline-dominating political protest riiiiiight around the time that he realized that his lucrative pro career was over, I have a bridge conveniently located in the San Fran-area to sell you.
The 49ers are now in a pickle. They want to cut Kaepernick but now face a potential backlash if/when they do so, especially since their replacement for the newly loud and outspoken black activist is the lily white Blaine Gabbert. My god, I can already hear what Stephen A. Smith is going to say.
Kaepernick himself gave the game away in his statement on the protest:
"This is not something that I am going to run by anybody," he said. "I am not looking for approval. I have to stand up for people that are oppressed." He continued, "If they take football away, my endorsements from me, I know that I stood up for what is right."
So already Kaepernick has framed his potential dismissal as purely a reaction to his protest. Even though they were going to "take football away" anyway and even though his endorsements would have naturally dried up when he lost his starting position. From here on out, every bad thing that happens to Kaepernick will be an example of racism or antipathy to the Black Lives Matter movement. He'll end his career not as a washed out franchise QB, but as a martyr for a cause.
This whole thing is reminiscent (as others have pointed out) of the Michael Sam debacle. Sam was a star player in college ball, being named the SEC Defensive Player of the Year his senior year. He shocked the sports world by coming out as gay months before the NFL draft, making him the first openly gay player if he managed to be drafted and make an NFL roster. Incidentally, his coming out came a month after Sam struggled in the Senior Bowl in his new position as a linebacker.
We all remember what happened next. Sam attended the NFL combine the next month and looked atrocious, making his draft stock plummet even further. Sam was drafted in the very last round by the St. Louis Rams, with it later emerging that the league cut a secret deal with the Rams forcing them to draft him to avoid charges of homophobia. Sam failed to make it out of training camp and promptly went to the Cowboys practice squad, from which he was immediately cut. Finally, Sam gave Canadian football a try before flaming out after only a few games. But hey, he was great on that reality TV show.
Was Sam brave to come out publicly in an industry where too many pro players still feel the need to hide their sexuality? Certainly. Was the whole thing a stunt designed by a subpar player to increase his draft stock and denounce his doubters as bigots? Absolutely. Did every single left-leaning sports journalist and political commentator fall for it hook, line, and sinker? You betcha.
Those who accused Sam of using his sexuality to secure his tenuous position were torn to shreds. They were informed that they were homophobes and only cynical of his abilities because of that homophobia. Well, the Sam-haters were right, and those who put politics before stoic analysis came out looking like fools. The same will happen this time around.
Maybe I'm too cynical, and the $100 million athlete who has never given a cent or more than a token notice to police violence really is just a latecomer to the cause. But it seems to me that the one benefiting most from Colin Kaepenick's recent actions is Colin Kaepernick.
[Image via screengrab]
——
>>Follow Alex Griswold (@HashtagGriswold) on Twitter
This is an opinion piece. The views expressed in this article are those of just the author.