Daily Caller Links President Obama's Trayvon Martin Remarks To 'Black Panthers'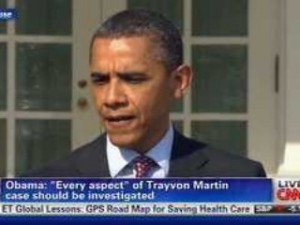 Well, that didn't take long. Shortly after President Obama delivered brief, heartfelt remarks on the slaying of 17 year-old Trayvon Martin, conservative website The Daily Caller writer Matthew Boyle published a front-page story implying that the President's remarks were spurred, in part, by "Black Panthers."
Aside from the sick subtext, The DC's headline, Obama comments on Trayvon Martin case after Black Panthers, Sharpton ralliers bemoan WH silence, will come as a shock to the actual Black Panthers, who no longer exist. The body of the article correctly identifies the group as the New Black Panther Party, a tiny group that conservatives have been trying to tie the President to since before he was elected. This isn't a "tomato/tomahto" difference, either; The New Black Panthers are not affiliated with the original Black Panther Party in any way. In fact, leaders of the original Panthers have denounced the NBPP, even suing them for use of the name, and stating that the New Black Panthers operate on "hatred of white people." The NBPP has been designated a "hate group" by the Southern Poverty Law Center, and the Anti-Defamation League.
Out of the 30,000-plus people who rallied for the slain teenager on Thursday, Matthew Boyle managed to talk to two different members of the group, who accounted for 67% of the people The DC interviewed for their story, so of course, avid Daily Caller reader that he surely is, President Obama's remarks were not a sincere reaction to a tragedy that has gained national attention, but merely his marching orders from Big Scary Black Guy, Inc:
Obama and the White House have previously refrained from commenting on the case thus far. Following demands by the New Black Panthers and others on scene in Sanford, Fla. that the White House get involved, Obama jumped into the fight. When first asked about the case, White House press secretary Jay Carney essentially declined comment, offering a boilerplate statement of condolence to Martin's family.
Perhaps that was supposed to read "following demands by the New Black Panthers and 34,498 others." Tomato, tomahto.
Carney actually did comment on the case Monday and Tuesday, telling reporters that the Justice Dept. was "looking into the matter," and that "our thoughts and prayers  are with Trayvon Martin's family," so he "essentially declined comment," except when he was actually commenting.
There is, perhaps, a legitimate criticism to be made that the President waited longer than he should have to speak about the case, and/or that he could have done so more forcefully, but was too gun-shy from the furor surrounding the Skip Gates incident. To imply, however, that the President's statement was not spurred by genuine concern over the tragedy is off-the-charts sociopathic. To imply that he did so at the behest of a tiny, para-militant designated hate group is a blatant attempt to exploit racial anxieties.
Have a tip we should know? tips@mediaite.com