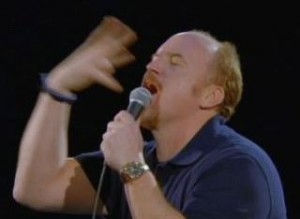 Comedian Louis C.K.'s new comedy special, Oh My God, premiered on HBO Saturday night. The one-hour special contained funny, often hilarious, material from the industry superstar. As a longtime fan of C.K.'s work, including his hit FX sitcom, Louie, I eagerly tuned in, only to be profoundly disappointed by what appears to be a slur against gay men.

Early in the segment, C.K.'s (admittedly dark) humor took a turn towards the offensive. While describing his New York City apartment building, C.K. reflected on the fountain in the courtyard that features "marble boys pissing":
What is it with fountains? Like, all fountain-sculptors are pedophiles, basically. You can't get a fountain-made without — 'Can you make me a fountain?' [Response in stereotypical gay male's, sexually aroused voice:] 'Yes, I'll get started right away! Aaaaggh… AAGGGH, yes!!! YES!!! It's fi-nished!' And [the commissioned fountain] is just little boys pissing on the face of a Greek god that looks like him a lot? [again in stereotypical gay male's, sexually aroused voice, while mimicking standing under the fountain's boy]: 'Ahhh, piss on me forever!!!'
(If one has any technical doubt about whether C.K. was employing a stereotypical gay male's voice, just listen to the joke preceding this one in which C.K., having spilled some water on his shirt while taking a quick swig, mimicked one: "Oh sh*t. G*d damn it! Idiot. This isn't a gay voice by the way. It's NOT! Shut UP!")
How is this acceptable? Where's the 'joke'? Repeated studies have shown there is no proven correlation between gay men and pedophilia. When imitating a pedophile who loves creating statues of little boys, why not use a creepy, even baritone, voice instead? The fact that C.K. has advocated for gay marriage, and spoken of the need to address homophobia, makes his remarks all the more disturbing.
The fact that C.K. is simply a comedian is irrelevant. Why is a 'joke' or statement acceptable merely because it is delivered as 'comedy' material? Why does the format matter? It doesn't, as illustrated in 2011 when comedian Tracy Morgan joked that he would stab his son if he were gay, and subsequently apologized.
Interestingly, C.K. came to Morgan's defense, particularly in a series of Tweets, including: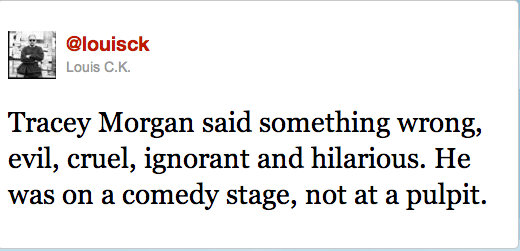 He appears to have doubled-down on that 'it doesn't count unless it's from a pulpit' defense, with this terribly offensive remark implying pedophiles are gay men.
The conundrum most will face is that C.K., much like Bill Maher, is a darling of the Left (he repeatedly inserts his liberal views into everything from interviews, to stand-up routines, to his FX show), who also holds the record for most vicious attacks on Sarah Palin. In fact, C.K.'s remarks on Palin were so offensive that they prompted Fox News' Greta Van Susteren to successfully lobby for C.K.'s exclusion from the July 2012 Radio and Television Correspondents Association Dinner he was set to headline. As Van Susteren noted on her blog, in March 2012:
…. Here is a sample of what he said about Governor Sarah Palin and you tell me whether any member of the media should sit in the crowd while he speaks to them:

Louis C.K. says of Palin: "her f*** retard making c***" and "the baby that just came out of her f**** disgusting c***."

To Palin: just "stick your t** in its mouth and shut up."

And here is more: "…her f***** retard making c****"

Need more to convince you? Here is what he says on twitter:

"I want to rub my father's c*** all over Sarah Palin's fat t***"

By the way, there is more, lots more.

I hope all the other women and men in the media join me in not going.

I also hope everyone has the courage to stand up to this.
[emphasis in original]
Rather than apologize for the Palin remarks, C.K. instead simply pulled out of the gig a few days after Van Susteren's post, with his agent noting: "He just didn't want to do it anymore."
This time, C.K. likened gay men to pedophiles. Will the Left condemn, or will it look the other way?
The double-standards clock is ticking.
—
Click below to view the relevant clip from C.K.'s Oh My God HBO special:
[Editors's note: This clip contains strong language and adult content – viewer discretion is advised]
—
Have a tip we should know? tips@mediaite.com