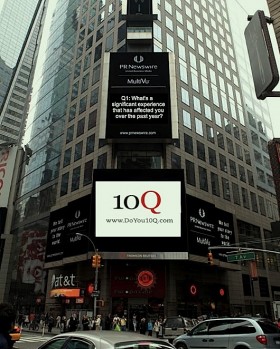 Happy New Year! Today is Erev Rosh Hashanah, which is the Jewish New Year. If you live in New York you probably know this because your co-workers have started leaving early — there is a lot of food to be eaten. But it also means a time for reflection for the New Year — and that's where 10Q comes in.
10Q stands for 10 Questions — one for every day of the Jewish High Holidays beginning with Rosh Hashanah and ending with Yom Kippur, which involves a lot of eating followed by a lot of not eating, followed by more eating. Frank Bruni isn't the only one with food issues. But this is where the Jew jokes end, because 10Q is a non-denominational initiative for anyone — anyone who wants to sign up online, or anyone who happens to be passing through Times Square.
Starting today and running for the next ten days, the Times Square Jumbotron will feature a question meant to provoke thought, introspection and forward-looking, big-picture thinking. High above the thronging crowds and people selling "I ♥ New York" baby onesies for $10 will be questions like "Is there something you wish you had done differently this past year?" and "Is there a part of yourself that you want to work on in 2010?" It'll be like that "Everybody Hurts" video, but way less depressing. Unless you really screwed up last year. In which case, well, this year surely can't be any worse!
Online, participants respond personally to each of the questions at www.DoYou10Q.com, and at the end of the ten-day question period the answers are sent to a secure, confidential online vault for safekeeping. One year later, participants will receive their answers via email and can be reminded of all those resolutions that they completely forgot about. Organize my closet? Really? Oops.
What's cool about this (and — disclaimer — I am peripherally involved) is how unusual a use of Times Square billboard space this is — rarely is such valuable advertising real estate commandeered for open-ended questions geared not for profit or consumption but introspection and self-actualization. It's a far cry from the usual use of that space — and a far cry from the pace of Times Square, which is as frenetic as the average New Yorker's life (or as frenetic as the average media person refreshing Twitter, Facebook, Drudge, HuffPo, the NYT, Romenesko, and of course, Mediaite).
10Q was founded by New Yorker writer and Please Step Back author Ben Greenman and filmmaker Nicola Behrman through Reboot, a cultural/philanthropic network of young(ish) Jewish professionals exploring contemporary Jewish identity (I say young-ish because I'm involved with Reboot, and am assisting Ben and Nicola with this project, mostly to avoid thinking about what I wish I had done differently this past year. What Jewish media conspiracy?). Here's how Ben explains it:
"For thousands of years, the Jewish High Holy Days, the ten days between Rosh Hashanah and Yom Kippur, have been a time of introspection and reflection," says 10Q co-creator Ben Greenman. "But why should the people observing those holidays have all the fun? The 10Q project is designed to be a modern take on this tradition, and the Times Square billboard provides an opportunity to slow down and take stock at one of the world's busiest intersections."
Upshot: Just as Jews have for years enjoyed fruitcake, days off and Miracle on 34th Street, so too can non-Jews enjoy 10Q along with Woody Allen, Neil Diamond, and all those Jews who wrote Christmas songs ("White Christmas," anyone? Hi, Irving Berlin!). If you're brave enough to Do the 'Q, find out more here. Happy Renew Year!
p.s. I love that this post will now forever show up in Google searches for "Jewish Media Conspiracy." L'Shana Tova!
p.p.s. Rejected headline: "Do You 10Q? Happy New Year, Jew!" But then I realized that 5770 is for everyone.
Have a tip we should know? tips@mediaite.com