DOJ Document Reveals Fox News Reporter James Rosen Wanted To Impact U.S. Foreign Policy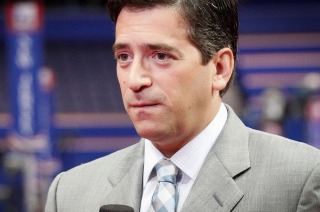 Ever since a Monday Washington Post article revealed that the Department of Justice investigation into a national security leak included searches of Fox News reporter James Rosen's email and phone records, the media has been focused on fluffing up comparisons of that case with the unfolding Associated Press leak investigation. Lost amid the hype and hysteria over the searches was the actual content of the emails between Rosen and his alleged source, then-State Department contractor Stephen Jin-Woo Kim. In those emails, now confirmed to be from Rosen, the Fox News Reporter reveals his noble intentions for seeking secret information from Kim.
The Justice Department investigation stems from an alleged leak that appeared in this 2009 Fox News article by James Rosen:
U.S. intelligence officials have warned President Obama and other senior American officials that North Korea intends to respond to the passage of a U.N. Security Council resolution this week — condemning the communist country for its recent nuclear and ballistic missile tests — with another nuclear test, FOX News has learned.

What's more, Pyongyang's next nuclear detonation is but one of four planned actions the Central Intelligence Agency has learned, through sources inside North Korea, that the regime of Kim Jong-Il intends to take — but not announce — once the Security Council resolution is officially passed, likely on Friday.
Ordinarily, Fox News would be among the first people to tell you that we don't tip off our enemies that we have sources deep within their governments. In fact, James Rosen would be the first to tell you that, in the same article:
FOX News is withholding some details about the sources and methods by which American intelligence agencies learned of the North's plans so as to avoid compromising sensitive overseas operations in a country — North Korea — U.S. spymasters regard as one of the world's most difficult to penetrate.
Yes, you have to wonder what a North Korean leak investigation looks like. Probably involves all kinds of search warrants and phone records and due process.
From the minute WaPo released its story, the press has been fluffing the details for maximum Scandalabra™ impact, comparing the Kim investigation with the DOJ's seizure of the Associated Press' phone records, and breathlessly reporting that the Justice Department "Tracked Rosen's Movements," and "Obtained His Personal Emails."
You can think what you will of the investigation, but a review of DoJ documents reveals that they "tracked Rosen's movements" by checking the government's own records of ID badge use. By that logic, you could say that the Secret Service and the White House "track" my movements. Attica! Attica! Attica!
Furthermore, the emails and phone records they seized, as the warrant affidavit notes, were exclusively for communications between Rosen and his alleged source, not the wide net that the headlines would suggest. Apparently, those records included a phone call between the source and a phone number either located at, or billed to, Rosen's parents' address, which led many to declare that Baier was saying the Justice Department targeted James Rosen's parents as well.
What Baier actually said (emphasis mine) was that "the seized toll records also relate to James' parents' home in Staten Island."
Fox News and much of the mainstream media have gone out of their way to make the DOJ investigation of Rosen seem as abusive as possible, and an extension of the AP leak investigation story, but a cursory review of the government's affidavit reveals that the DOJ developed probable cause to conduct a much narrower investigation of Rosen by first examining the alleged leaker's emails, work phone records, and the State Department's ID badge records. Much has been, and perhaps should be, made of the affidavit's characterization of Rosen as "an aider and abettor and/or co-conspirator in the crime," but since he has not been charged, it would appear the government was deploying that legal theory primarily to support searching Rosen's emails, rather than voluntarily asking for them:
Other than asking the Reporter for a voluntary production of emails from (gmail account), there is no other way to get the evidence we rightfully seek. Because of the Reporter's own potential criminal liability in this matter, we believe that requesting the voluntary production of the materials from the Reporter would be futile and would pose a substantial threat to the inegrity of the investigation and of the evidence we seek to obtain by the warrant.
Whatever you think about the Kim investigation, it's a good deal different from the way it's being portrayed. Unlike the AP investigation, the DOJ obtained search warrants that appear to have been appropriately narrow in scope.
The emails revealed in the government's affidavit appear to show, however, that James Rosen's solicitation of government secrets wasn't nearly so narrow. The affadavit describes how Rosen assigned himself the codename "Alex," and Mr. Kim the moniker "Leo," and in their early contacts, explained the noble aims of their prospective relationship:
Thanks Leo. What I am interested in, as you might expect, is breaking new ahead of my competitors.
Sure, that sounds bad, as if James Rosen would jeopardize America's contacts in a hostile foreign government just to get some eyeballs away from his competition, but surely, every reporter has this competitive urge. Although it was the first thing Rosen mentioned, there was another consideration. After outlining the kinds of secret information he hoped to get from "Leo," Rosen summed up his intention to… report the news objectively? To serve the public?
Let's break some new, and expose muddle-headed policy when we see it – or force the administration's hand to go in the right direction, if possible.
Wait, what? Is that what a News reporter is supposed to do, force the administration's hand to guide American foreign policy to the reporter's whim? Separate and apart from the DOJ investigation, this email seems to indicate that James Rosen is not just a News reporter, but an activist intent on pushing his own agenda, with the stated goal of manipulating U.S. foreign policy.
For sheer amusement, though, the affidavit goes on to describe a comical unraveling of Rosen's cloak-and-dagger codename facade:
Leo,

You are most perceptive and I appreciate your inquiry. Call me at work on Monday… and I will tell you about my reassignment. In the meantime, enjoy your weekend!

Alex

(The electronic signature to this e-mail following the word "Alex" identifies the Reporter by the Reporter's full name, phone number, e-mail address, and media organization.)
At least he didn't say "Allow myself to introduce…myself. I'm Richie Cunningham, and this is my wife, Oprah."
The press should continue to shine a light on the Justice Department's handling of reporters in leak investigations, but it should do so honestly, and stop claiming that James Rosen was just a reporter doing his job. Unless they see that job as steering America's global foreign policy.
Have a tip we should know? tips@mediaite.com