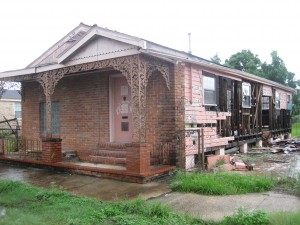 I was in New Orleans this past weekend for the fifth anniversary of Hurricane Katrina, and was fortunate to pay a few visits to the Lower 9th Ward — one of the hardest-hit neighborhoods, and on the front lines when the levees broke (literally — the neighborhood is right on the Industrial Canal Levee). In defiance of what happened five years ago — and defiantly in plain view of the levee — the Make It Right Foundation, Brad Pitt's non-profit org, has built and continues to build sustainable, affordable and hurricane-resistant homes for displaced residents of the Lower 9th. These modern, brightly-colored, geometric angled new homes sit high on a sturdy raised foundation, with mandated open roof access in case of the worst-case scenario. They look great.
They look great, but — over 4,000 homes were lost five years ago — and Make It Right is building 150. On Tennessee Street and surrounding, the gleaming new homes are rising up, but they are doing so amid vacant lots and in a larger neighborhood where countless homes still stand, empty and broken and boarded-up and decaying. On many, the spray-painted 'X' markings from recovery teams is still in sight, with their symbols indicating, among other things, how many bodies were found inside. (I spoke last night with a member of one of those teams, who said that the high water would sometimes carry strange bodies into homes, through open walls and blown-out doors, to be deposited there to be found or, worse, dealt with by whomever might be there to meet it. The flooding of the Lower 9th left scores dead (I'm currently reading 1 Dead In Attic by Times-Picayune writer Chris Rose, whose title comes from the grim yet all-too-common reports from those dark days). I walked around the Lower 9th on Sunday, and realized with a shock that the water would have been probably three times my height, at least; from where I stood on Tennessee Street, with the levee in clear view, two streets away, I can't see how I could have survived.
We were on Tennessee for a second line street party, where the neighborhood marches along with a brass band, amid lots of clapping, singing and dancing. Afterward a man stood up on a ladder against a tree and hung a wreath, inside which was a drawing of a man on his roof with the waters closing in, waving an American flag. He said that his mother, grandmother and niece were lost on that day, but they were all still here and the Lower 9th would go on. They would rebuild, and they'd never leave. Then the celebration began anew.
Afterward, we drove around the area, away from Tennessee street. It's back, in terms of families and cars and people living there, but amidst the homes there are those former homes, still left as they were when the waters receded, with decaying wood and crumpled paint and broken windows and boarded-up everything. The video below shows some photos and footage from my visits there — by no means representative of the neighborhood as a whole, but representative of a pretty significant and undeniable element. The neighborhood is standing, and functioning — which is more than can be said for it in the wake of Katrina's fury, and the levee's surging waters. But still. Five years later, it's still there.
There's more coverage to come from my time in New Orleans, including video interviews with NBC's Brian Williams and Bloomberg's Lizzie O'Leary, plus some seriously excellent music from the House of Blues. New Orleans is plenty more than its scars. But they are there. Video below – song is NOLA by Mirah, feat. Thao Nguyen, off the "Dear New Orleans" Katrina 5th-year anniversary benefit album.


*p.s. While I love this song — and the whole "Dear New Orleans" album — I have to just take issue with one line: "It's not your fault, levee break." Ponchartrain, hurricane — natural. Levee break — man-made compounding of a natural disaster to horrific proportions. Can't really let a post about the Lower 9th Ward go without clarifying that.
Have a tip we should know? tips@mediaite.com