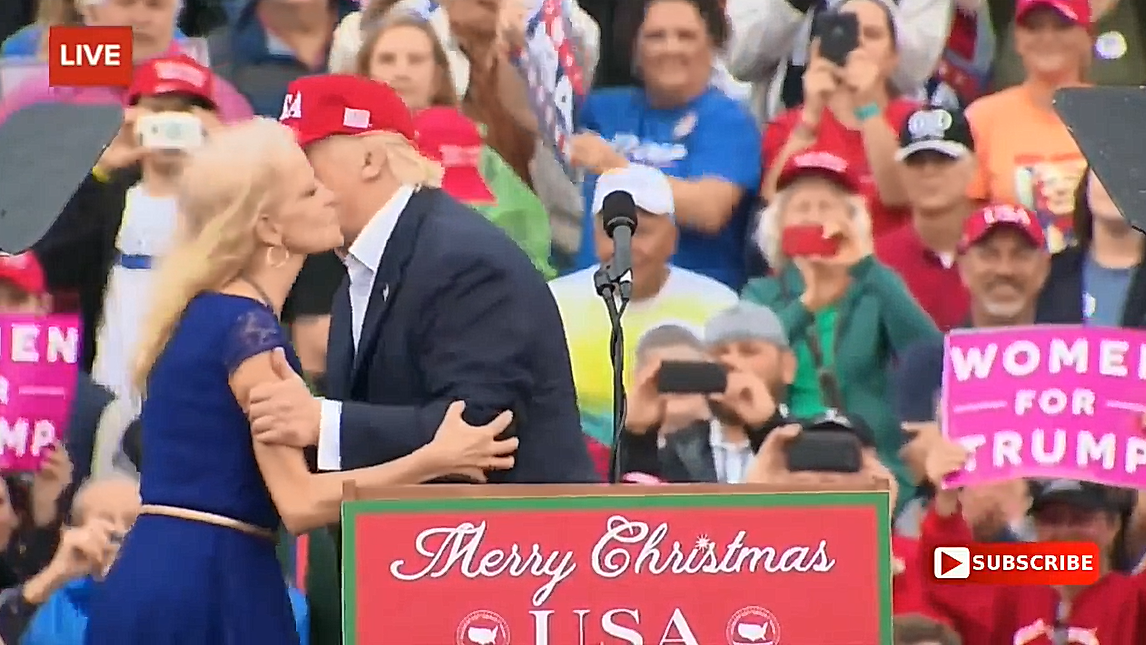 Donald Trump has faced accusations of sexism ever since he decided to announce his candidacy for President of the United States.
The latest in the "sexist" accusations against the President involved his face-lift comments about Mika Brezezinksi and a recent report that the gender pay gap has tripled in the White House under Trump.
Following Trump's victory in the 2016 election, self-proclaimed feminist Jill Filipovic wrote a column for the Washington Post titled "What Does President Trump Mean For Feminists?"
Filipovic believed it represented a "clear statement of what so many of my countrymen (and the people who put Trump in power are mostly men) value: white male supremacy above all, especially over female ambition, intelligence and basic competence."
Donald Trump may have other issues involving the treatment of women, but a belief in their ambition, intelligence or basic competence is not one of them.
Following the "promotion" of Sean Spicer, Sarah Huckabee Sanders, at least for the time being, has been tasked with the job of White House Press Secretary, essentially the voice of the President. This decision follows the decisions Donald Trump made on the campaign trail which was essentially to put all of his faith in women.
Trump brought in campaign veteran Kellyanne Conway during the summer to head his efforts. Conway joined national spokeswoman Katrina Pierson, an African-American woman, and essentially the face and voice of the campaign, and together they became arguably the two most important figures in the entire campaign.
By all accounts, there was no individual other than Donald Trump himself with more influence and decision making authority within the Trump brand then his daughter Ivanka Trump.
A Trump insider reportedly told Politico, that even with his sons, he "wants her to be the face of his brand into the next generation" and that "the only phone call Donald would always take was Ivanka."
And anyone who knows her will testify to her intelligence, ambition and competence.
Here is a concept that folks on the left seem to have a hard time wrapping their brains around: People like Donald Trump are simply looking for the best person for the job. Gender, race, sexual orientation, etc. is completely irrelevant. It probably doesn't even cross his mind. A businessman does not really have the luxury of saying things like "how many gay Latinos do we have in that department?", or having any criteria except competence.
Donald Trump does not appoint women so he can tout the gender diversity within his organization or combat charges of sexism. The women around him just happen to be the people he determined to be the best individuals he could find.
Diversity as it pertains to race and gender is only a priority for "progressive" America and folks who aren't directly affected by whatever decisions are made to create the illusion of diversity. No one believes in diversity for the sake of diversity when they stand to personally gain or lose something. And Donald Trump has always stood to gain or lose a lot with his decisions.
I suppose Trump could do what Democrats do and create a bunch of feel-good feminist organizations with catchy names and no substance or give a bunch of women important-sounding job titles, then put them in an empty room and tell them not to touch anything.
Yes, the bulk of Donald Trump's business associates and Presidential cabinet members are not women. But he has chosen to place women in very close and personal roles, at the forefront of his professional and political life and that says something about his belief in their ambition, intelligence and basic competence.
[image via screengrab]
This is an opinion piece. The views expressed in this article are those of just the author.