Fox News' 'White House Bans Fox News' Story Is Starting To Unravel Become Clearer – Updated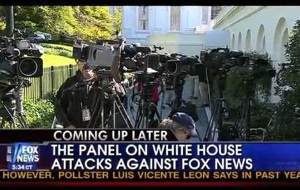 UPDATE – This story was originally published without key information that changes some key points of the story. It no does not appear that the story is "starting to unravel" as the headline claims, rather, the story has changed since its first reporting. Mediaite gave Fox News every opportunity to make clear their side of the story, but did not share key information until Saturday afternoon, which lead to Fox News: White House Apologized For Pay Czar Interview Snub "Mistake" In the so-called "war" between Fox News and the White House, it looks like the Obama administration has scored a much-needed victory.
On Thursday night, Fox News ran a shocking report that the "Obama administration" had "contacted the White House pool" and made executive pay czar Kenneth Feinberg available for round-robin interviews, "but specified that all members of the pool were welcome except Fox News." They billed it as the Obama administration's "first concrete step" in the direction of treating Fox News Channel like it's not a real news organization.
The report went on to say that the bureau chiefs of the 5 networks in the TV pool decided that none of them would interview Feinberg unless Fox was included, and that "the administration relented," making Feinberg available to all 5 networks and Bloomberg TV. A Fox News panel then went on to debate the White House's attempt to "ban" Fox from the interviews.
Through our own reporting, and the reporting of others, my reporting has shown that Fox News' report of this incident was, at best, incomplete and self-serving, and serves as a neat encapsulation of what Robert Gibbs told us the first time we asked him if the White House was "bullying" Fox News.
Fox's report should have raised red flags immediately with its lack of key details. UPDATE – It's now clear that their initial report was incomplete and lacking in details as it came out while the story was still unfolding.
First of all, Fox omitted the fact that it was the Treasury Department that handled the interviews, not the White House. They also failed to produce the press announcement for the event, which Mediaite has obtained, or any direct quotes from the bureau chiefs involved. Most glaring, to me, was the fact that they didn't initially interview Major Garrett who conducted the Feinberg interview, for their report. Garrett later filed a report on the incident, providing a much fairer account than that first report. Still, he doesn't address whether Fox requested the interview. The whole thing smacked of an oversell, a minor snafu being spun into a scandal.
As the story spread yesterday, there was no on-the-record confirmation of the story from any source other than Fox News. None of the other network bureau chiefs stepped forward to take credit for this "courageous stand," and no other documentation surfaced to support it.
Last night, Mediaite was first to learn that the Treasury Department denied the story, telling us "There was no plot to exclude Fox News, and they had the same interview that their competitors did. Much ado about absolutely nothing."
Now, TPM is reporting that the Treasury Department did omit Fox News from a list of networks requesting an interview with Feinberg because Fox didn't request one. The press bulletin for the event stated, "This is a pen and pad briefing only; no cameras or recording devices for broadcast purposes will be allowed." The requests for on-camera interviews were a special request.
The other networks insisted on Fox's inclusion on the basis of their mutual pool arrangement, not as some show of solidarity. In fact, when Treasury brought the matter to the White House's attention, it was the administration who approved Fox News' inclusion. TPM also points out that logistical negotiations of this sort are usually treated as off-the-record.
The White House, for its part, isn't looking to make nice with Fox News, telling TPM "This White House has demonstrated our willingness to exclude Fox News from newsmaking interviews, but yesterday we did not."
While the Obama administration's handling of Fox News has veered into heavy-handedness recently, this episode should help to quell the notion that the White House is just picking on Fox's opinion hosts.
Update: A lot of readers have wondered why this post was taken down, then put back up with several revisions. The short version is that developments in the story occurred while I was unable to update this story. The reporting in this story was 100% accurate, and if I had been able to update this piece using the new information, the commentary would have changed only in that I would have added to it.
The fact remains that Fox's initial report was incomplete and self-serving, and not because the story was "unfolding." They omitted key details that they would have known at the time, and failed to provide any evidence to support their claim. If I had conducted the interview with Michael Clemente, I would have asked him to explain those omissions, and why Fox didn't interview Major Garrett for that piece.
Have a tip we should know? tips@mediaite.com