Gawker's 'Santorum Baby' Post Mocking Politico's Dead Child Overlooked By Angry Internet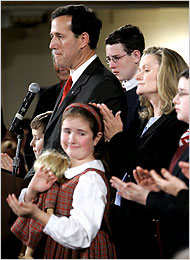 Wonkette's post about Trig Palin's birthday – and Tommy Christopher's take on the issue – have been surging on Mediaite today, but another story about a politician and his child has been quietly slipping beneath the radar. (Note: Update below!)
Over the weekend, Gawker featured a post about former Pennsylvania Senator Rick Santorum's announcement that he plans to form a presidential exploratory committee and made mention of the fact that Santorum and his family cuddled with the body of their deceased newborn son, Gabriel Michael, in the hours following his death.
Apparently, a number of commenters expressed their distaste for the story, prompting a response from the post's author, Max Read:
It seems many of you feel very strongly about Rick Santorum's right to take the 20-week-old fetus (which is not the same thing as a "dead child"!) home, and then tell The Washington Post about it, and then not get made fun of at all. Which is fine! We are all delicate flowers who mourn loss in various delicate ways, etc. My mistake was perhaps that I didn't explain what was additionally loathsome about Santorum's fetus playdate—that is, its deployment as anti-choice propaganda.
Read then quoted a Washington Post article that described the Santorums' displeasure at seeing their child described as a "a 20-week-old fetus" on a hospital form rather than a "20-week-old baby" as well as Karen Santorum's "Letter to Gabriel" – a series of letter to her son which included an indictment of partial-birth abortion.
The Gawker story – while nowhere near as mocking or distasteful as Wonkette's post about Trig – struggles with the same dilemma: How does one artfully comment on a politician ostensibly using a child as a tool (or "prop") to garner votes or support without being equally guilty of thrusting a child who has no voice in the matter into the spotlight? How do you report on a personal matter without making seem personal?
Gawker's article walks a much finer line than does Wonkette's: The picture used in the post includes an intentionally (we're assuming) unflattering image of Santorum's daughter in tears (although, notably, no animated .gifs of gyrating pole dancers) and seems to ridicule Santorum's entire family – not just the former Senator himself – for their collective decision to take photos of and sing lullabies to the dead child. This is a really weird thing to do, the article seems to say, and the Santorums are not only weird to do it, but they're manipulative as well.
—
Update: Max (very kindly!) reached out to me via Twitter to explain why he chose to use that particular photo.
hi alex–i chose that img for my post b/c its "internet-famous." not trying to draw a connection, though i see why one might!
—
But could one attempt to discredit or ridicule Santorum's position as a "family values" candidate – which is the goal here – without mentioning this story? If a candidate holds his family members by the hand and gently nudges them straight into the middle of the arena, placing their personal choices and formerly private family moments on display, do they have no right to call foul when the lions are eventually released? (Metaphors, people!)
It's not black and white. The Santorums' decision to highlight their final moments with their dead child makes this anecdote fair game for analysis, debate and criticism. It can and should be called out as being a calculated (and possibly even callous) political move if people view it as such. But mocking the tearful expression of one of his daughters by choosing to feature an unflattering photo, or mocking those who would be offended by the idea of adding family to the mix doesn't work to prove a point, and it turns what could be a nuanced, intelligent look at the role family plays in politicians' plays for power into little more than senseless bullying. Think Sarah Palin is a massive tool for parading Trig around at political events and book signings? That's fine. It has nothing to do with Trig, and everything to do with Palin. Think Sarah Palin is a devoted mother who is doing her part to highlight the struggles of raising a child with Down Syndrome? That's great, and it also has nothing to do with Trig. His name does not even need to be mentioned in order to make a point either way. The same goes with Santorum: Highlight his actions, by all means, and let those actions speak for themselves without shining a particularly bright and unflattering light on his family members. To do anything else would be to cloud and detract from the issue. After all, sordid details aren't needed when a story is so sordid that it can offend or damn on its own merits.
h/t Gawker
Have a tip we should know? tips@mediaite.com