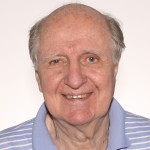 It was her opinionated self-indulgent questions that made Helen Thomas a news celebrity. The answers she got could not clarify an issue, elicit useful information, contribute to understanding, or, in fact make news.
She was gallant, even heroic, in forcing the case for women in journalism. That was a monumental career achievement. She got herself admired for bold, relentless badgering of Presidents. She became the first woman president of the White House Correspondents' Association. She quit UPI on principle when the Moonies bought it in 2000 (and signed on as a columnist for Hearst) In recent years (she is now 89) she has been receiving special deference for longevity. (Disclosure: At 86, I personally disavow professional envy).
But she was also, in what was then the era of objectivity as a professional objective, a subversive precursor of the prejudicial slant in reporting that has come to characterize the worst in the shrill polemicists in the blogosphere and cable news. And, like them, she got a lot of personal attention, admiration for scrappiness — and celebrity status.
Howard Kurtz of the Washington Post did a fine retrospective this week of some of those breaches that were more or less passed over as loud odd-ball eccentricities at the time. Mark Knoller of CBS told him:: "She asked questions no hard-news reporter would ask, that carried an agenda and reflected her point of view, and there were some reporters who felt that was inappropriate." To one such diatribe, Tony Snow thanked her for "the Hezbollah view." "She always said crazy stuff," Jonah Goldberg, National Review Online columnist recalled: "This newfound horror and dismay that people are expressing about Helen Thomas are beyond a day late and a dollar short."
There is some irony in the response of the Board of the White House Correspondents Association, in their concern over her assigned seat, front and center, in the briefing room:
Many in our profession who have known Helen for years were saddened by her comments, which were especially unfortunate in light of her role as a trail-blazer on the White House beat. While Helen has not been a member of the WHCA for many years, her special status in the briefing room has helped solidify her as the dean of the White House press corps, so we feel the need to speak out strongly on this matter.
Consequently they are considering the appropriateness of a columnist being assigned to a front-row seat.
So her outrageous outburst on Israel may be startling, but in full career context it is not a real surprise. It sheds harsh light on the false premise of her fame as a journalist, and the adulation, respect — and the front-and-center seat in the White House briefing room — that it brought.
Have a tip we should know? tips@mediaite.com