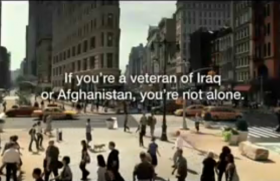 Today is Veteran's Day — one day out of the year to remember and celebrate and thank the men and women in uniform who serve this country. Paul Rieckhoff, who heads up Iraq and Afghanistan Veterans of America (IAVA) thinks that's not enough. "You have a moral obligation to support those who served," he said at last night's IAVA gala honoring veterans. "Make every single day Veteran's Day."
For a vet, guess what — every single day is Veteran's Day. And those days can be damned hard, a very different kind of hard from the trials of active duty. It's the kind of hard that comes from trying to fit back into a world that hasn't been there and doesn't see things like you do, the kind of hard that comes from PTSD flashbacks, the kind of hard that comes from struggling to get find a job because your military skills somehow aren't relevant, the kind of hard that comes from walking around with half your face transformed by burn scars. The kind of hard that comes from not walking around at all because you lost your legs.
There are all different kinds of "hard" that can come along with being a veteran in this country, but last night's IAVA event showed clearly that there's a lot of wonderful things too, like fellowship and pride and honor and duty and service, and also the family that you love but have to leave and is there for you when you come back. Yeah. This event was pretty damned moving, from Rieckhoff's exhortations not to forget about those guys (and gals!) in uniform to J.R. Martinez, victim of a land mine explosion overseas who sustained over 30 operations to recover but still carries those burn scars with him — right into the hospital rooms and now auditoriums where he gives motivational speeches, and on All My Children where he is the first vet to actually play one on TV. When he thanked his mother, choking up, there was not a dry eye in the house.
IAVA also unveiled their latest PSA last night, about how soldiers may feel alone when they come back from war — but they're not. Friends and comrades are all around them. It's a gorgeous and powerful piece of work. The tagline is "IAVA – we've got your back." On this day and every day: So, too, should we all.


Here's the PSA from last year, equally compelling:
Have a tip we should know? tips@mediaite.com