Liz Smith: Keith Richards – Shy With Women, Cozy With Drugs – The Demon Inside Him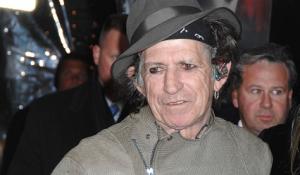 "I HAVE never put the make on a girl in my life. I just don't know how to do it. My instincts are always to leave it to the woman."
This remark, incredibly, comes from the most dissolute-looking of all the Rolling Stones –- the indestructible Keith Richards.

Keith confesses his shy attitude in his coming autobiography, Life, which is excerpted in the latest issue of Rolling Stone. There's Keith on the cover, looking like 50 miles of bad road. Drugs and drink and high living are almost ridiculously obvious. Once upon a time he was really rather handsome and sexy. Oh, well -– he doesn't seem to mind, at this point.
***
THE EXCERPT from RS seems to concentrate on the early years of the Stones, when the group's founder and original leader, Brian Jones, was free-falling into addiction and depression. Brian was also madly in love with model/actress Anita Pallenberg, but he was insanely jealous and irrational. Keith writes: "Brian was never good at connecting with Anita. I learned later just how violent he had become with her as the downward slide began -– throwing knives, glasses, punches, forcing her to barricade herself behind sofas. She thought, at the start at least, that Brian's rampages were quite funny."
Eventually, of course –- with broken ribs to show for it -– even Pallenberg, whom Keith describes as "a tough girl," wanted out. Though she still cared for Brian, he wasn't physically (terrible asthma) well, along with other issues. Keith stepped in, in more ways than one -– "Sir Galahad, again," he notes wryly. In the end, Brian Jones was ousted from the band, and died shortly after, drowned in his pool, although this book excerpt doesn't cover that still-mysterious tragedy. Nor does it get into the tumultuous Keith/Mick Jagger relationship.
Keith also comments here on his infamous drug-taking and partying: "It just happened. It was a search for oblivion, I suppose, though not intentionally. Being in a band, you are cooped up a lot and the more famous you get, the more of a prison you find yourself in. The convolutions you go through just not to be yourself for a few hours."
Keith insists, however, "I can improvise when I'm unconscious. This is one of my amazing tricks, apparently. I try to stay in contact with the Keith Richards I know. But I do know there's another one that lurks, occasionally, about … there's a demon inside me, and there's a demon in everybody else."
Rolling Stone, which knows from rowdy music industry tell-alls, declares Keith Richards's Life to be one of the "greatest rock memoirs ever."
I'll have to decide when I read the entire book, but I did find this little bit surprisingly well-written and compelling.

Liz Smith's column can be read in its entirety at Wowowow and is excerpted here under an agreement between Mediaite and Wowowow.
Have a tip we should know? tips@mediaite.com