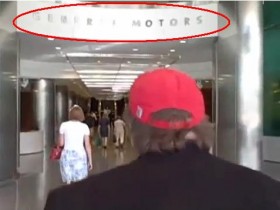 Michael Moore is hard to ignore — he's been hard to ignore for GM for 20 years, though Lord knows they've tried.
But for the first time since Roger & Me, Moore finally set foot on GM property…without being escorted off.
On Sunday night, Moore premiered Capitalism: A Love Story in Detroit, booking four theaters at the GM Renaissance Center. Drama! According to Moore, when GM found out that the booking was for him, they tried to renege on the booking. Compromise: Movie could premiere as planned — sans cameras, and sans Moore.
Moore conducted interviews at a nearby Marriott — but after, he went into the GM Renaissance Center anyway. On Twitter he called it "my first official visit inside General Motors headquarters" — I'm not sure of the geography, if the Renaissance Center is part of the GM HQ, but either way, if there's a town that could use a renaissance it's probably Detroit. As Moore pointed out in the movie, even Cleveland makes fun of it.
Either way, here is the video of Michael Moore's first offical visit inside GM headquarters after bedeviling them for a full 20 years, taken Sunday and posted today:


…and here is a report from local Detroit station WDIV, who actually were apparently escorted off of GM property, before the premiere, despite having been invited to cover the premiere. Has GM not learned anything in 20 years?


…and, just for good measure, here's the Cleveland video featured in Moore's film. It would be sad if it weren't so funny. Or vice versa.
Have a tip we should know? tips@mediaite.com