Missed It By That Much: George Zimmerman Friend Tells CNN George 'Kept Everybody Safe'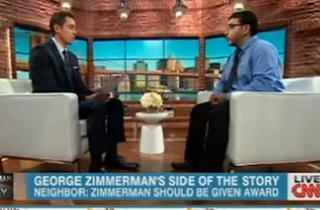 My old friend Matt Lewis is out with a thoughtful op-ed on one possible consequence of George Zimmerman's acquittal in the killing of Trayvon Martin: that Americans might stop caring about their communities. Zimmerman friend and next-door neighbor Jorge Rodriguez appeared on CNN's New Day Monday morning to offer an unintentional, poignant rebuttal to Lewis' premise, telling host Chris Cuomo that his friend "kept everybody safe," and that Zimmerman was all about "keeping his community and fellow neighbors safe."
In his commentary for The Week, Matt Lewis talks about identifying with Trayvon Martin, and bristling under the glare of self-appointed busybodies, but also tries to see the value in what George Zimmerman was trying to do:
But here's the thing. In a sense, George Zimmerman was — at least up until the moments surrounding that fateful shot — arguably doing what we tell responsible citizens to do: Care about your community, and take personal responsibility for the betterment of it.

To be sure, he was overzealous. It's one thing to call the police, and another to get out of your car and engage in a confrontation, especially when you have a gun with you. But we always say things like, "This is your community" and "You are responsible for it." Do we really mean it?

…This isn't so much about the details of the Zimmerman case as it is what the case will teach us. These big events are morality plays, and they unconsciously send signals. Some issues, like racial profiling, are obvious conversation starters. Others are less obvious. And I think that one of the lessons that will be taken away from this is to mind your own business. That's not a particularly healthy message to send.

This is an obvious takeaway from the case: Your life will be a whole lot easier if you retreat inward. Don't worry about the community.
If I didn't know Matt, I'd be 3/4 finished with a column ripping him for deflecting Trayvon Martin's death into a lament for the poor, unappreciated busybody, and for trivializing the suspicion that black people are subjected to every second of every day, but I do know Matt. He's being sincere, and filtering this event through a personality that truly wants everybody to get along. Ordinarily, I'd be suspicious of a conservative making this sort of argument, but because I know Matt, I listened, and I thought about it.
Then, I saw Chris Cuomo's interview of George Zimmerman's next-door neighbor and friend, Jorge Rodriguez. The CNN host asks Rodriquez about how Zimmerman "feels about people of different backgrounds."
"Pretty sure, just like everybody else, he accepts everybody," Rodriguez replies. "You know, he doesn't have no black, white, yellow, green in his body. He accepts everybody for who they are."
Everybody, that is, except Mexicans. Cuomo doesn't follow up by asking Rodriguez about Zimmerman's Mexican-maligning MySpace page, or how Zimmerman's well-documented suspicion of young black men (which the defense even bragged about) might fit into accepting everybody.
Instead, Cuomo asks Rodriguez if he's seen Zimmerman "have people of color at his house?"
Rodriguez replies that he lives next door to Zimmerman, and has witnessed, with his own eyes, "people of African descent" entering the domicile. What this has to do with Trayvon Martin is beyond me. I'm sure most people would concede that if a black person managed not to get shot and killed by George Zimmerman, there's a chance they could end up friends. The racial suspicion that is at the heart of this case has to do with the way we view people we don't know, not "the good ones."
But then, Cuomo and Rodriguez begin to touch on the theme of Matt Lewis' piece. Rodriguez tells Cuomo that George Zimmerman is "one person that actually stood up for his community."
"How so?" Cuomo asks.
"Because he, he kept everybody safe," he responded, referencing some of the crimes that had occurred in the neighborhood.
"It was just about keeping his neighborhood safe. That's what it was about?" Cuomo says.
"Of course. Keeping his community and fellow neighbors safe," Rodriguez says, and if you're not already screaming "Not f*cking everybody!" then that's the problem. Trayvon's brother Jahvaris Fulton testified that, for years, he and Trayvon spent weekends "or whenever we wanted" at The Retreat at Twin Lakes, and defense attorney Mark O'Mara even said "He was more living there in the last few years, wasn't he?"
So why is it, then, that Trayvon Martin wasn't included in the "community" that George Zimmerman cared about, and kept so safe that he killed one of its unarmed children? And it's unfortunate that Cuomo didn't immediately ask that question: Why did he not see Trayvon Martin as part of George Zimmerman's community? That's the entire point, because even after over a year of attention to this tragic story, Trayvon Martin is still not considered a part of the community that he spent years living in, and one night dying in.
Editor's note: This post has been edited since its original posting – Jon Nicosia, Mgr. Editor
Have a tip we should know? tips@mediaite.com