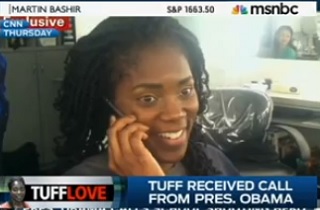 On Friday afternoon's Martin Bashir show, guest host Joy Reid led a discussion of the conservative media's attempt to promote crimes with white victims as analogous to the Trayvon Martin killing, the latest example being the senseless murder of Australian Chris Lane by three black teenagers, one of whom was actually white. Guest Heather McGhee of Demos.org pointed out the uplifting story of Antoinette Tuff, who miraculously talked down a white school shooter in Georgia this week, and claimed that Fox News "hasn't exactly been wall-to-wall" in covering Tuff's heroism.
Reid was talking about how "one of the things that's fueling" the right's racial narrative " in the Chris Lane case, you had this tweet by one of the alleged killers in which he said '90% of white people are nasty #hate them.' now we're off to the races."
"And it's all so incredibly sad, at this moment, right at the 50th anniversary of the March on Washington," McGhee said, adding that "We could be lifting up stories like Antoinette Tuff. That was a beautiful example of an African-American woman finding Dr. King-like love, God-like love and empathy for a young white male – who tend to be the mass killers in our society – who is armed with a gun and could have killed 500 young children, but was able to be find an empathy beyond skin color, and share her pain with him."
Joy agreed, and noted that "America has fallen in love with" the heroic school clerk.
"You'll notice that Fox News hasn't," McGhee claimed. "I've been watching to see how much coverage she's been getting on Fox News when it's not the stereotype, an African-American woman who was able to save a school full of children, and talk down a young white killer. Hasn't exactly been wall-to-wall coverage over there."
McGhee's claim set off alarm bells right away when she said she's been watching Fox News. This is where most liberals would make some kind of crack about McGhee having too many teeth for that to be true, but c'mon, libs, you're better than that, aren't you?
I actually don't watch Fox News, but in fairness to them, I decided to test McGhee's claim, which sounded a lot more like an assumption than a fact. According to the TV Eyes database, MSNBC has mentioned Antoinette Tuff 34 times this week, while CNN puts them to shame with a whopping 136 mentions. Fox News, it turns out, did not completely ignore Ms. Tuff, mentioning her five times this week, although one of those was a repeat of The Five.
However, Fox News did lead the week in mentions of "racist tweets," with ten, while CNN had zero. MSNBC had one, but that was actually Joy Reid playing a clip of Fox News anchors talking about racist tweets.
Have a tip we should know? [email protected]