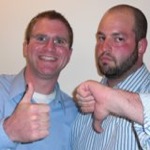 Who: Stephanie Blackwood (Double Platinum), Rachel Sklar (Mediaite.com), Stephen Hahn-Griffiths (Mullen), moderated by Stuart Elliott (New York Times)
What: Out Professionals' "NY Times' Stuart Elliott Talks Advertising"
Where: The New York Times Building
When August 27, 2009
Thumbs: At our sides
Stephanie Blackwood, Stephen Hahn-Griffiths and Rachel Sklar may have sat together on one panel, but they spoke — and lived — on different planes. Blackwood and Hahn-Griffiths, veterans of the advertising field, consistently praised traditional, classic, and successful ways of marketing a brand. Traditional and classic, while reliable in some industries, are the reverse of what's happening in Sklar's circles. As evidenced from her discussion of new media and technology, Sklar depends on social media in a way that Blackwood and Hahn-Griffiths haven't considered for their ad campaigns. "Advertising" is a broad topic, and most of the time the Venn diagram representing Sklar's world next to the ad executives' world only showed a sliver of an intersection.
Though divided, both sides of the panel had intriguing points. Hahn-Griffiths spoke about the "thousand days of pain" wrought by the economic downturn, and called it the age of "The Unconsumer," a term that refers to people who will repair and refurnish rather than buy new items. He cited the success of General Motors' certified used division as an example. He reasoned that the GM success escorts in a new, yet undefined, normal, where "going green" is as much a financial concern as it is an ecological one.
Sklar, on the other hand, had a product-focused view of advertising. She argued that since young people are less influenced by advertisers and prefer to hear about products from their friends, the best thing a company can do is to create a great product. She cited Twitter's presumed effect on the performance of Inglourious Basterds and Bruno at the box office as examples of commercial success driven by word of mouth. Sklar also stressed how quick the feedback loop is now for marketers; blogs and Twitter will immediately evaluate your approach.
These two viewpoints were best summed up in one interchange: Hahn-Griffiths dubbed the emerging socially-conscious demographic the "We Generation" — focused on community and social good — while Sklar countered by pointing out the "Wii Generation" — a young, tech-savvy group of socially-networked early adopters whose status was tied to gadgets and connectedness.
Stuart Elliott, charming and insightful as moderator, tried to tie the two sides together. Elliott consistently suggested that the advertising could be understood as old-fashioned tactics turning up in new ways. The rules are not changing necessarily but the construction and implementation is different. Still, we get the overall sense that we're a distance away from seeing these two industries so easily interwoven with each other.
What They Said
"When times are tough, it's a lot easier to take risks. If you fail, no one notices."
– Stephen Hahn-Griffiths believes that the economic downturn is an opportunity for innovation
"The last industry to have employee resource groups for the gay and lesbian community was advertising agencies."
– Stephanie Blackwood confirms everything we have learned from watching "Mad Men"
"Television didn't kill radio; it drastically changed radio."
– Stuart Elliott drew a simple parallel to the world of online vs. print news
"Frugality is going to become sexy."
– Stephen Hahn-Griffiths guesses what the new normal will become. We were holding out for rating things with our thumbs to become sexy. Damn.

"I personally needed another place to obsessively media track."
– Rachel Sklar explains why she helped launch a Web site during hard economic times
What We Thought
Stephen Hahn-Griffiths' tenuous blend of consumerism and quasi-philosophical oratory reminded us a lot of Eric Bana's character from Funny People. We're pretty sure that was what led us to the comparison and not just his accent.
Stuart Elliott said the new meme for brands is trust and reliability. Brands like Gap are now declaring that they've been around for 40 years. This isn't making them look stodgy, it makes them look trustworthy. Elliott said he noticed this in a Clorox commercial he saw during last week's "Mad Men." On an unrelated note … do people still watch commercials on television?
Elliott took notes during the panel. Moderators and panelists should take (ahem) note of that. As Elliott showed last night, it pays off.
PANEL RULES!
Some audience behavior seems to repeat itself panel after panel. We'll be updating a running list of "PANEL RULES!" that will help ensure that you are not the dweeb of the Panel Nerds.
Panel Nerds don't like… Town Hallers
We don't like people who interrupt to voice outrage at the world during town halls, so we certainly don't like them at panels. Your rant against "the Google search box" will get you nowhere. Listening to the hysteria, we started to imagine someone bringing a printout of Google.com defaced with a Hitler mustache.
Here's the panel: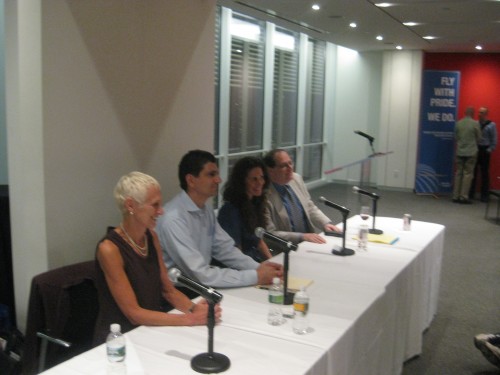 [Disclaimer: Mediaite's Rachel Sklar, who recruited us and who edits our columns, was one of the members of this panel. While she reviewed the post prior to publication, the opinions expressed were untouched and we were not edited for content. We decided to attend this panel on our own; that Rachel was one of the panel members speaks to our dovetailing interests, and we are in favor of anything that dovetails.]

Panel Nerds Etan Bednarsh and Danny Groner are New York-based writers and avid panel-goers. Want them at your panel? Email them here: PanelNerds@mediaite.com
Have a tip we should know? tips@mediaite.com