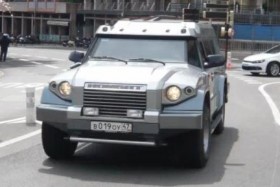 Thanks to actress Pamela Anderson, among others, overcompensating jillionaires the world over will now be denied the Holy Grail of douchy excess: a giant, armored SUV with an interior crafted in genuine whale penis leather. Russian automaker Dartz has bowed to pressure from Anderson, and other environmentalists, and has pulled the feature from its Pombron Monaco Red Diamond Edition SUV.
Not to worry, though. The pricey ride still comes with plenty of pointless luxury. Jalopnik lists the car's non-penile features:
* Ruby Red matte paint
* Gold-plated bulletproof windows
* 22″ Kremlin Red Star bulletproof wheels
* Tungsten exhaust
* Tungsten and white gold gauges with diamonds and rubies
* White gold diamond and ruby encrusted badges – grill, side and dashboard
* Special edition Vertu mobile phone with "alert" button
* Additional outside kevlar coating
* Rogue Acoustic Audio System.
While the gold-plated windows and diamond-and-ruby encrusted gauges are impressive, the cars come with 3 bottles of vodka, the flasks of which are made from melted antique gold coins. The bottle's cap features a diamond-encrusted eagle. The only thing missing here is a cigarette lighter with a supply of ignitable $100 bills.
Dartz announced Tuesday that it would drop whale penis from its list of options, saying "We want to tell our hello to all whales: "Our Sea Brothers! We all know that earth are stand on three whales – we will keep You live! We don't Earth fall down to Ocean!"
Instead, they're foregoing leather entirely, and will "focus on world most advanced nanotechnologies to achieve interior highest quality using artificial materials which also was never used for cars."
So, the next time you see one of these, you can rest assured that the only dick in the car is the driver.
Have a tip we should know? tips@mediaite.com