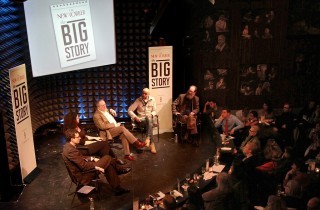 Over the course of 2012, we covered an array of politicians, authors, entertainers, media mavens, and others as they discussed their crafts and their industries. (Here's last year's list.) We enjoyed most of the panels, lectures, and debates we took in, while some of them fell short. Here, a rundown of our 5 favorites, followed by the 10 quotes that defined the year in New York City media panels:
1. Who: Nicolle Wallace, Abby Huntsman Livingston, Sandra Fluke, Christine Quinn, Amy Holmes, Stephanie Schriock, moderated by Chelsea Clinton
Where: 92Y
When: March 28, 2012
What we said: "At the end, Clinton wrapped things up by reaffirming that conversations like this one should be seen as the beginning. Each of these women will undoubtedly continue to share her thoughts and send these positive messages to young men and women. And from the way the audience cheered throughout the night, it's clear that they too will take these lessons home."
2. Who: Emily Nussbaum, Richard Brody, David Denby, Kelefa Sanneh, moderated by David Remnick
Where: Joe's Pub
When: January 12, 2012
What we said: "Not a single member of The New Yorker's esteemed panel was willing to argue in favor of the proclamation that television has surpassed – or would surpass – the prestige and prowess of Hollywood cinema. However, some were more willing than others to argue that TV shows have come a long way in proving that they, too, can be taking seriously as an artform."
3. Who: Joe Klein, Margaret Hoover, Anthony Randazzo, moderated by Toure; Evan Bayh, Rick Lazio, moderated by Ben Smith
Where: 92Y Tribeca
When: September 9, 2012
What we said: "Everyone agreed that Romney will have to perform well at the first debate if he hopes to keep the race close. Klein wondered whether Romney actually did himself a disservice during the primaries when he began taking "weird stances" that the conservative base imposed. Plus, Klein said, attacks that conservatives hurl at Obama that he hasn't accomplished enough are easy to fend off once you sit down and make a list of all of Obama's key achievements. Obama is just bad at communicating them, Klein said. They all agreed that the two candidates must shift to speaking more positively if either expects to sway swing voters going forward."
4. Who: Rashida Jones, Will McCormack, Lee Toland Krieger, moderated by Alison Bailes
Where: 92Y Tribeca
When: July 31, 2012
What we said: "The panel members were charming, funny, and real in a way that every filmmaker hopes for with his or her fictional characters. Bailes, for her part, was impressed with what she'd seen of "Celeste and Jesse Forever" — this screening was actually her second viewing of the new film — and she raised questions that got the writers/actors and the director to delve deeper. It was, however, a case for us where hearing the creators discuss the film was drastically more interesting and entertaining than the film itself."
5. Who: Josh Levin, Mike Pesca and Stefan Fatsis, with guest- Nate Silver
Where: City Winery
When: January 17, 2012
What we said: "All of that meshed perfectly with the addition of Nate Silver to the panel for an interview segment. Silver was choppier when discussing himself and his own progression, but became more animated and passionate when the discussion turned to his work with statistics and prediction models both in sports and politics. Just as Hang Up and Listen's discussions shied away from stereotypical sports blowhard culture, Silver diverged from the pomposity of political punditry. Silver focused a great deal on explaining the limits of statistics, how important it is to know those limits exist, and accepting them."
THE 10 BEST QUOTES OF 2012
1. "[Sandra Fluke] and I actually have something in common: We've both been attacked by Rush Limbaugh."
– Chelsea Clinton has a sense of humor about her opponents
2. "To me, the Internet was an absolutely essential component of proving what TV could do."
– Emily Nussbaum points to message boards as a source for people to communally exchange thoughts about their favorite shows
3. "I like the policy of obstruction if it will be stopping bad ideas."
– Anthony Randazzo says that everything is good in moderation
4. "Tweets are the new headline."
– Ben Smith uses his experience as a reporter to tease his followers
5. "Sometimes the truth is more absurd than fiction."
– Will Reiser actually had to cut parts from his movie based on true events that some felt were too far-fetched to be perceived as possible
6. "Some precedent is always broken, if you define things narrowly enough… eventually every player is a special snowflake"
– Nate Silver would have a problem with us claiming that this is the best Nate Silver quote to ever run second in the Panel Nerds' "What They Said" section. In January.

7. "I moved to L.A. to make enough money to move away from L.A."
– David Cross enjoys going on stand-up tours
8. You work such long days you don't want to work with assholes."
– Rashida Jones discusses her approach to casting
9. "I think The King's Speech would play very well on TBS, and I don't mean that as a compliment."
– Richard Brody prefers avant-garde movies
10. "The best politician wins. Always."
– Joe Klein explains why Obama is leading in the polls

Have a tip we should know? tips@mediaite.com