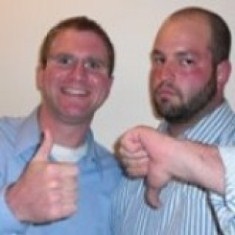 Who: Art Garfunkel, Charles Grodin, moderated by Bruce Fretts
What: "Songs of America with Art Garfunkel and wth Charles Grodin"
Where: Paley Center for Media
When: February 6, 2013
Thumbs: Up
This lovable pair met each other while they were both mismatched for their roles. It was back in the late 1960s when Art Garfunkel was cast to appear in "Catch-22" and he met Charles Grodin on the set. Garfunkel said that he was "insecure" at the time, a musician masquerading as an actor. But it was only a little while later that it was Grodin's turn to try something out — he directed "Songs of America," a TV special that aired in primetime in 1969 that showed the famous duo Simon and Garfunkel up close. Since then, Garfunkel and Grodin haven't lost their edge, or their affinity for one another.
By today's standards, it's a wonder how "Songs" ever made it onto the air. In its day, it didn't find a following either. But that was because it was considered too progressive for those days. That's hard to imagine today since it's nothing more than an hour of behind-the-scenes footage of the musical pair touring around America, with the occasional commentary mixed in. Their songs are played over some famous moments in history, as well as clips of Lenny Bruce and Flash Gordon. Grodin said that he just wanted the movie to represent what he heard inside of Paul Simon's songs.
The taping for the special took place while they were recording an album, and Grodin recalled making light of how long and drawn out that process was. Still, he relishes the time he go to spend with these famous musicians in their heyday. Grodin knew then that he was seeing something special close up.
For Garfunkel, watching "Songs" now he can't tell one city apart from another in the video footage from the road. He also acknowledged that he was "naive" then in many of his views that he expressed in the short documentary. Still, the music itself transcended because of the "fusion" that worked and how the sounds of the singers complemented the other. Garfunkel is hoping to get back to his music soon, as a solo performer which he said allows him to explore more range in his vocals. He also said that he's learned over time not to worry about where his hands are when he stands at the mike. After decades in the business, he has calmed his nerves.
What They Said
"I didn't realize how political we were. I didn't know we were being seen as Democrats. I thought we were being seen as having hearts."
– Art Garfunkel says that he's wised up to his music's messaging
"What's really upsetting about seeing this now is that nothing has changed."
– Charles Grodin wishes that America would learn from its mistakes
"You never expect success."
– Art Garfunkel tries to explain why the show may have flopped in the ratings
"Mike Nichols is the 'Yoko' of Simon and Garfunkel."
– Bruce Fretts joked that it was Nichols' casting of Garfunkel that drove a wedge between the singing duo
What We Thought
Moderator Bruce Fretts did a nice job allowing these two veteran entertainers to have the space they needed to reminisce, joke around with each other, and tell long stories about what music and TV were like back in the day. They revealed most when they weren't addressing a direct question but were permitted to regale the audience with their tales and observations.
We liked the format for this event and hope that the Paley Center runs more similar events in the future. Featuring an old broadcast  from their collection followed by a panel discussing the special is a recipe for success for this media institution. Not to mention it brings out the most nostalgic ones among us.
PANEL RULES
Some audience behavior seems to repeat itself panel after panel. We'll be updating a running list of "PANEL RULES!" that will help ensure that you are not the dweeb of the Panel Nerds.
Panel Nerds don't like…Mystery Lovers
Asking Art Garfunkel to talk about how his music has evolved over time is a fair question. It's even a good one, and something that, from his answer, the musician clearly has thought about before. But the problem here was that the question asker went so big with a vague question about what Garfunkel thinks is best and worst about how music in general has changed that Garfunkel was caught offguard. Efforts for elucidation didn't helped before Garfunkel decided to just talk about his own singing. In the end, it was a better answer than what he would have gotten had he fully comprehended the question he was tasked with. It's better to stay close to home than to confound the panelist.
Have a tip we should know? tips@mediaite.com