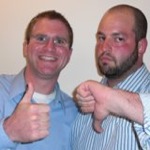 Who: Chuck Klosterman
What: Book Reading for Downtown Owl soft cover release
Where: Barnes and Noble in Union Square
When: June 22, 2009
Thumbs: Up
Leave it to Chuck Klosterman to turn an ordinary book reading into an introspective exploration of his psyche.
Klosterman's previous four books were works of non-fiction that relied heavily on the author's own experiences, thoughts, impressions, opinions and fears. For his novel, Klosterman tried to write about unrecognizable people, events and situations. While writing the book, he aimed, for the first time, to keep himself out of the text. Rereading it now though, Klosterman admitted that in this mission, he failed. He was unexpectedly struck by the similarities his book did indeed have with his own life.
This led Klosterman to lift his head from the pages of his book and to wonder aloud about his own insecurities, lack of self awareness, and possible feelings of envy or longing directed at his story's characters. For Klosterman, this unconscious action, when viewed in the wider context of his writing, is emblematic of a truth of the human condition – that "you" seep in to your work, even when you try to do something that isn't "you."
This realization about his fictional characters, he said, scared him because it's an indication that he may not be able to conceive or construct someone entirely outside of himself and his memories.
He then took questions about… well, anything.
What He Said
"When I was 6, I knew what New York looked like because of Diff'rent Strokes"
– CK on the differences between living in a small town and a big city
"It could just be – vegetables, but… I don't know"
– CK on whether he thinks Lebron James and other basketball players use steroids
"You get to an age where you still love pop culture, but intellectually – not emotionally."
– CK explaining pretty much his entire worldview
"Axl Rose… I would think I could do it better than anyone else… which is why it probably can never happen"
– answering "What cultural figure would you most like to interview?
"Maybe there's a charming flaw to my own self awareness"
– offering a possible explanation for his fame
What We Thought
More than most other panels, the success of a Chuck Klosterman talk depends on the questions he receives, and Klosterman fielded queries from "whether the novel's unconscious expressions of self are a better way to understand who he is than this non-fiction work" to "what's on your DVR right now?"
Klosterman's slouched posture and animated speaking style makes it feel much more like a discussion with a friend (albeit a really smart, creative friend) than a lecture.
The one subject that Klosterman struggled to try to explain was his own fame, success and – more so – his cultish following. But the crowd's dogmatic attention to his free form ranting, and honest candor confirmed that there are people who believe, as the Facebook group puts it, that "Only Chuck Klosterman Understands Me." We could almost see why.
PANEL RULES!
Some audience behavior seems to repeat itself panel after panel. We'll be updating a running list of "PANEL RULES!" that will help ensure that you are not the dweeb of the Panel Nerds.
Panel Nerds don't like…. Conspiracy Theorists
Don't rail against a political cause or corporation as part of your question – Your question may be brilliant, but if it's predicated on the assumption that capitalism is conspiring to control politics which is conspiring to… well, we've tuned you out.
Panel Nerds don't like… Brown Nosers
Don't start your question with "I'm a big fan" – We know you are a fan. That's why you're there. (Although it might be interesting to hear someone start a question with "I'm not a fan of yours.")
Etan Bednarsh is a writer and internet marketer in New York City . His writing focuses on the intersection of politics and pop culture. He is currently studying sketch and improvisational comedy at the Upright Citizen's Brigade. Danny Groner is a freelance online writer and video editor in New York City. He has worked at several prominent media companies, dabbling in radio, television, and print and online journalism.
Want the Panel Nerds to cover your panel? Email them here: PanelNerds@mediaite.com

Have a tip we should know? tips@mediaite.com