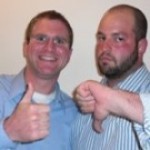 Who: Colin Firth interviewed by Janet Maslin
What: TimesTalks' "A Conversation with Colin Firth"
Where: The Times Center
When: January 20, 2010
Thumbs: Up
When you ask Colin Firth to speak about what went into his latest performance, he won't give you the typical actor-speak. Rather, he'll tell you more widely how his character fits into the overall scheme of the story. He gives off the expertise of a writer or director who's brainstormed and structured the work. Not content to be an actor in a role, Firth seeks the complete picture.
For instance, while discussing "Easy Virtue," Firth expounded on the themes and vision of the original writer, Noel Coward. He did the same when plugging his latest film, "A Single Man" which is directed by famous fashion designer Tom Ford (slightly NSFW). Firth recognized the "improbable combinations" that the first-time director injected into the film. He fully digests what the films are about (in this case: rage, finality, lust, regret, irony, adoration and sentimentality.)
Interviewer Janet Maslin made sure to ask about the controversy surrounding the film, which centers on a gay man but had marketing materials that conveyed a more "heterosexual" message. Firth acknowledged that Ford and the marketing team struggled to find the right way to sell the film, but he's convinced that the movie will reach all audiences.
While Firth is analytical and upbeat, he's also somewhat complex. Maslin correctly pointed out that Firth is drawn to two vastly different types of roles – the everyman and the royalty. For his "Single Man" role, he turned to the works of Dennis Potter as a source of inspiration to make sure his character's grappling with death was not synonymous with depression. In order to achieve that difficult balance during filming, Firth had to quickly shift to different emotional states to show the multi-faceted nature to his character and the film overall. When they screened an example of what Firth describes as the "emotional trajectory" required to make that sudden change seem natural and believable, the audience recognized that as one of the talents Firth has certainly mastered.
What They Said
"One's work isn't just dependent on a fresh start or a clean slate. And your experience can be used as an instrument for that character."
– Colin Firth invests some of himself into his films
"If you get a guarantee that everyone you take a risk on would deliver, then every film would be a masterpiece."
– Colin Firth, not considering "White Chicks"
"People are generally secretive about their sexuality in one way or another in general. Unless they're Italian."
– Colin Firth is married to an Italian woman
"Because I'm English, there's a perpetual state of embarrassment."
– Colin Firth prescribes character traits to nationality
What We Thought
We've never seen a crowd skew so much in the direction of one gender. Whether it can be explained by the accent or his acting talent, Firth has a firm grip on the 40s and 50s female demographic.
Firth said that while they were shooting some of the more intimate gay scenes in the film, Proposition 8 passed in California. He said that it was an unfriendly reminder that America wasn't as progressive as he'd liked to believe. He did, however, say that Obama getting elected during the same period was reassuring.
He said the only late-night show he would agree to do time and again (as he just did) is "The Daily Show with Jon Stewart." He said that he doesn't like to be told that he has a few minutes to come up with several funny anecdotes.
PANEL RULES!
Some audience behavior seems to repeat itself panel after panel. We'll be updating a running list of "PANEL RULES!" that will help ensure that you are not the dweeb of the Panel Nerds.
Panel Nerds don't like…Fawners
If you get the courage to go up to the microphone to ask one of your favorite actors a question you've always wished you could ask him… actually ask it! It's unbecoming (yep, we said "unbecoming") to see a 50-something-year-old woman trying to repeatedly regain her composure while fanning herself and taking deep breaths into the mike. You may be a first time questioner. Tom Ford was a first time director. You can succeed your first time.
Have a tip we should know? tips@mediaite.com