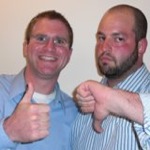 Who: David Carr and Ta-Nehisi Coates
What: Book Reading and discussion for The Night of the Gun and The Beautiful Struggle
Where: Barnes and Noble on the Upper East Side
When: July 6, 2009
Thumbs: Way Up
David Carr and Ta-Nehisi Coates first met in 1996 while working together at Washington City Paper. Carr was an editor when Coates joined as an intern. Over the course of their time working together, the two became "great friends." Carr repeatedly expressed how honored he was to share the stage with his former protégé and marveled at the success that Coates has had as a professional writer.
Both writers discussed how strong, authoritative, and imposing fathers impacted their lives and their stories. Coates said that he views Carr as a surrogate father. The two men's closeness was evident during their readings as the audience witnessed outpourings of emotion from the panelists. Coates was noticeably shocked by some of Carr's memories, and Carr looked on at Coates with pride and admiration as he read a section of his book, The Beautiful Struggle: A Father, Two Sons, and an Unlikely Road to Manhood. (Carr read from his own memoir, The Night of the Gun, promoting the paperback version.)
Cementing the familial atmosphere of the event was the presence of David Carr's daughter who was in attendance and even answered an audience question — whether his family was ready for the book to come out. Her response — that the image she has of her  father is separate from what is described in his book — and her shunning of the microphone ("I can just speak loud enough") was said with confidence and conviction. Carr, as he did when Coates read from his book, nodded along with pride. Oddly, this put Carr in the role of both father and father figure as he read aloud tales of his reckless and dangerous drug use. Seemingly a contradiction in terms, it was eye-opening for the audience to visualize Carr as the drug user he was and see Carr as the person he is.
What They Said
"He's a great writer but it required me walking around on one foot because my other foot was up his ass."
– David Carr describing his attempts as an editor to harness Ta-Nehisi Coates's writing talent
"I was in the top 5 or 10 percent of human beings who lived. I got tremendously lucky."
– Ta-Nehisi Coates sincerely remembering his father, who had 7 children from 4 women. He grew up surrounded by friends who never met their fathers, or were abused by them.
"It explains everything and excuses nothing."
– David Carr describing the approach of his book.
"If I could pull you in, I could make you forget that not much happens."
–  Ta-Nehisi Coates musing about how he wrote a memoir despite "not being molested or addicted to drugs"
"I did a little more empirical research"
– David Carr explaining the difference of the role of drugs in his and Ta-Nehisi Coates's books
What We Thought
Carr's raspy voice added an additional, unexpected layer of emotion to his reading. It enhanced the already contemplative tone to the book reading and made it even more dramatic and compelling.
The hostess chose to let the two men introduce themselves. This gave them more face time to talk frankly and comfortably. Neither Carr nor Coates seemed too eager to be the focus of attention or recognition, consistent with their day jobs as reporters. They didn't crave the credit, instead opting for the conversation.
We were impressed by these panelists' disposition and sentiment. They each described the tumultuousness that once surrounded their lives and the process by which they took to overcome obstacles and even addiction. It was inspiring to discover how cheerful they were. They were each encouraged by the other's literary and personal successes.
PANEL RULES!
Some audience behavior seems to repeat itself panel after panel. We'll be updating a running list of "PANEL RULES!" that will help ensure that you are not the dweeb of the Panel Nerds.
Panel Nerds don't like…. Advice Solicitors
Don't ask writers to tackle your problems – Sure, a good speaker or panelist will get you thinking about your own life, but don't ask for guidance in how to deal with someone you know in a similar situation. The panelists are memoirists, not psychologists or social workers. They don't know how to answer your questions. You know who does? Psychologists. Or social workers.
Etan Bednarsh is a writer and internet marketer in New York City . His writing focuses on the intersection of politics and pop culture. He is currently studying sketch and improvisational comedy at the Upright Citizen's Brigade. Danny Groner is a freelance online writer and video editor in New York City. He has worked at several prominent media companies, dabbling in radio, television, and print and online journalism.
Want the Panel Nerds to cover your panel? Email them here: PanelNerds@mediaite.com
Have a tip we should know? tips@mediaite.com