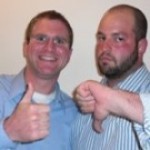 Who: Eliot Spitzer, interviewed by Jeff Greenfield
What: "In the News with Jeff Greenfield – Eliot Spitzer"
Where: 92nd St. Y
When: May 2, 2010
Thumbs: Up
As we exited the panel, we overheard a couple whispering, "Did he think he'd get away with it?" They were obviously discussing the scandal that brought down Eliot Spitzer, former governor of New York. It was that salacious side of Spitzer that brought many to the event, but the topic was only occasionally referenced and hardly discussed. Instead, interviewer Jeff Greenfield opted to focus on the Spitzer of the moment – the virtuous Wall Street fighter who was ahead of his time and is now rumored to be plotting a political comeback. Greenfield wasn't "forgiving" Spitzer of his past sexual misconduct; he was sticking to the better story.
Greenfield began the one-on-one session by saying he wasn't Dr. Phil and he hadn't received any guidelines from Spitzer ahead of time. That doesn't mean Spitzer didn't come with his own set of focal points to repeatedly touch on and hammer home over the course of the night. He stressed how much he's willing to contribute his opinions and insights when asked to. So he's become a Slate writer, appeared as an MSNBC contributor, and started to do more public appearances.
Some have begun wondering if these sightings are the beginning of Spitzer's rise back to prominence. But Greenfield was quick to point out that Spitzer still has the same enemies he made when he was governor and cracking down on Wall Street. Greenfield indicated that other politicians (Bill Clinton, Mark Sanford, John Ensign) have survived sex scandals, unlike Spitzer who was pushed out within days. Spitzer acknowledged that his determination rubbed some people the wrong way. Still, he doesn't regret his strategy, only some of his tactics (his use of profanity and occasional loss of temper.)
As the conversation remained largely on financial reform, Spitzer denied that he'd have been able to save the world from the economic collapse, the Bernie Madoff Ponzi scheme, or other indiscretions like the ones perpetrated by Goldman Sachs. He did, however, indicate that his outlook and approach to rebuild the financial structure could help fend off further misdeeds.
He says that the biggest problem for investment banks these days is that the bankers don't know who their clients are and who they represent. It would be better to get back to thinking about the best interest of the public, he says. That's what he says he's always tried to do.
What They Said
"The structure of banking is what brought us to the precipice; it destroyed our economy."
– Eliot Spitzer wants to rebuild the foundations
"The SEC has the better argument but by no means an easy argument."
– Eliot Spitzer believes that Goldman Sachs has a long road ahead, though not an impossible one
"Politics is about finding the people with the right ideas for the moment."
– Eliot Spitzer stands behind those who have the creativity and intellect to solve what needs to be done
"There's really little that's new in this crisis and that's the pity of it. We should have learned the lesson."
– Eliot Spitzer blamed our repeated dooming on forgetting history
"The stories we read about Greece, we may read about the United States ten years later. We are in dire circumstances."
– Eliot Spitzer doesn't think that the tide has turned yet for the economy
What We Thought
Spitzer's wife, Silda, sat close to the front and kept a low profile. We recognized her not as a woman making a statement, but simply a wife showing support for her husband, the keynote speaker of the evening.
Greenfield once again put his experience and inquisitiveness to work. Not only was he well-versed in Spitzer's accomplishments as both governor and previously as attorney general, Greenfield went into depth about the framework of the New York legislature, David Paterson, Joe Bruno, and Andrew Cuomo, among others. It led us to wonder what Greenfield isn't an expert in.
PANEL RULES!
Some audience behavior seems to repeat itself panel after panel. We'll be updating a running list of "PANEL RULES!" that will help ensure that you are not the dweeb of the Panel Nerds.
Panel Nerds don't like…Half the story
We appreciated that Greenfield kept the discussion civilized and dignified. He phrased his questions delicately, carefully thinking through every word so that it didn't portray Spitzer any more negatively than he deserved to be treated. However, when it came to the Q&A portion, Greenfield's selection process unveiled an imposing gap. You see, all of the questions were focused on current events – financial, Supreme Court-related, political, and so on. None of them dug into the scandal that made Spitzer so notorious. It was one thing for Greenfield to dance around the subject during his time; but when the audience got their chance to ask what they wanted, Greenfield could have delivered them what they wanted. Even with a bit of temperance.
Have a tip we should know? tips@mediaite.com