Panel Nerds: Jon Gosselin Looks Like Much Less of a Fame Whore Next to Rabbi Shmuley Boteach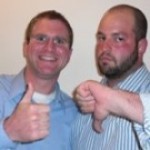 Who: Jon Gosselin interviewed by Rabbi Shmuley Boteach
What: This World: The Values Network and BeliefNet present "Fame: Blessing or Curse"
Where: West Side Jewish Center
When: November 1, 2009
Thumbs: Downer than Down
Rabbi Shmuley Boteach didn't ask direct questions to elicit thoughtful responses from Jon Gosselin. Instead, he made speeches — subbing himself in as his subject's spokesperson — that ended with approval-seeking questions like "Would you agree?" and "Is that accurate?"
Maybe it was our own fault to expect anything different from Boteach, but this meeting with Gosselin seemed particularly self-contradictory. He gathered together reporters, cameramen and producers to cover his hour-long chat with Jon Gosselin…in order to lash out at them for their contribution to Gosselin's recent self-destruction. That may have made more sense if the event was packed by anyone other than journalists, but there were only a few dozen people in attendance.
In order to keep the conversation according to plan, Boteach repeatedly instructed Gosselin and the crowd about what this  gathering was not: It was not a confessional, a therapy session, a counseling session, or a place for judgment, he said. Rather, Boteach explained, it was an opportunity to have a forum about how fame has the power to change someone for the worse. He cited his deceased friend, Michael Jackson, as an example of someone whose demise came as a result of media pressures. He clarified that he didn't mention Jackson in order to namedrop. Apparently, that can be added to the list of things the evening was not: It was not an opportunity to name drop.
What was so troubling about Boteach's point of view is that it removed him from any culpability in people's ego-driven search for fame. He never addressed his own blatant attempts to seek out ways to benefit from media attention. Whenever it was convenient, and he was done saluting his own triumphs, Boteach reminded the audience that this night was about Gosselin.
So what did Gosselin actually say? Very, very little.
Gosselin came off as a simple man committed to religious values. He said he misses his old job, his old life, and the way people used to view him. He said that it was hard for him to rectify his behavior and to repair his marriage when TLC was pushing him for business purposes instead of morality's sake.
He added that when his wife, Kate, didn't want to go to counseling with him, he went ahead on his own, and he wound up learning a lot about himself. He said he's tried to improve from being the passive, unaware, shy, insecure character that continually came across on the program. Whenever Gosselin would seem sincere and introspective on this night, though, Boteach quickly moved the conversation away from anything honest or revealing. He justified such intervention as necessary in order to save Gosselin from accidentally "blaming" someone for his misdeeds, past and present. Boteach time and again suggested that "Fame" was to blame. And Gosselin, under Boteach's force and direction, inevitably agreed over and over again.
What They Said
"We decided not to take a break but just to slow things down a bit."
– Jon Gosselin and Hailey Glassman aren't planning on having their own reality show anytime soon

"I cannot remember a time where celebrity was so central to our culture."
– Shmuley Boteach definitely practices what he preaches in this area
"The media is calling her a home wrecker. The only people who wrecked the home are the mom and dad."
– Jon Gosselin defends his relationship with Glassman, even against Boteach's insistence
"Apparently everyone cares about me in New York for some unknown reason."
– Jon Gosselin could probably figure out the reason

"As a Jew and as a Rabbi I extract the lesson that nothing is good and nothing is bad."
– Shmuley Boteach thinks you can make the most, or the least, of every opportunity
"There was conflict and there was resolve. But you never saw the resolve."
– Jon Gosselin blames TLC for editing out his marriage's better moments
"I do have all these outside pressures and people calling me a douchebag but I just keep on going."
– Jon Gosselin has learned to live with being a douchebag his critics
What We Thought
The event started 45 minutes late, Gosselin attributing it to delays as a result of the New York City Marathon. It just made us wonder how often Gosselin uses similar excuses. He says he travels back home to Pennsylvania to visit his family. We hope he accounts for traffic, for everyone's sake.
Boteach surprised us when he said that he had a good experience with TLC while filming his show, "Shalom in the Home." His puzzlement and curiosity about how Gosselin says TLC treated him was probably the only moment of the night where we thought the host was being genuine. Obviously we wish we'd experienced more of these moments.
PANEL RULES!
Some audience behavior seems to repeat itself panel after panel. We'll be updating a running list of "PANEL RULES!" that will help ensure that you are not the dweeb of the Panel Nerds.
Panel Nerds don't like…Exclusionary selections
At first, Boteach tried to claim that the discussion had gone on too long and they wouldn't have time for questions. After a bit of an uproar, he relented and began to field the audience's inquiries. Yet it became extremely evident that he was deliberately avoiding the questions from members of the press. When one reporter, aghast, called out a question about Jon's "mantrums," Boteach shot her down saying that he won't address reporters. Boteach said they'd be reserving questions for "humans" only. After Gosselin responded to a question about his relationship with his minister, the kangaroo court let out of session.
Related:
Gosselin: "I Feel Guilty" (VIDEO) – [Gawker]
Have a tip we should know? tips@mediaite.com