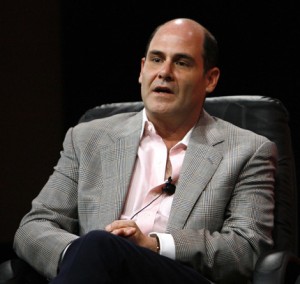 Who: Matthew Weiner, January Jones, Jessica Pare, moderated by Caryn James
What: "Matthew Weiner and the Wives of Don Draper: A Conversation with Clips"
Where: 92Y
When: April 24, 2013
Thumbs: Way Up
Matthew Weiner is extremely proud that his show, "Mad Men," is a depiction of what real people with real emotions are like. It's to Weiner's credit that he got AMC to do the show at all, since, he says, it took him many years to sell and he admits that it falls into no traditional genre. His sole goal was to tell a good story. What makes "Mad Men" so noteworthy is that it's the "most contemporary" show on TV today, Weiner says. The show's frankness and openness about tough times and tough characters and situations helps it shine. And Weiner wouldn't have it any other way.
In real life, people don't have expectations for people the way they do for TV characters, Weiner argues. People have grown to expect certain twists or tropes from watching other shows, and his audience was surprised that he could keep Betty (January Jones's character) on long after she and Don split. Another example of this concern came at the close of last season when Peggy exited the Sterling Cooper offices for the very last time, yet remained with the show at the start of this season. Weiner says his decisions to play the game a bit differently come out most in how he portrays children, who he says are fake on most shows, but on his reflect the sexuality, jealousy, rage, and other emotions that real children experience.
His cast has bought in. Jones believes, for example, that Betty is the happiest this season that we've ever seen her. That's not very happy, really. While many housewives would be thrilled with what Don or Henry can give her, it's not enough for Betty. And she makes decisions and responds accordingly.
The same can be said for how Jessica Pare's character, Megan, emerges on the scene. Originally, she appears in a very small role with just one line — "Yes, Joan" — but as Don's affinity for her grows, so did Pare's part. That's true to how things work in real life, eve if Don Draper can act impulsively at times.  As it turned out, though, there was a backstory to Pare's appearance on the show: She had auditioned several times before for other roles, and the casting directors held onto her for a bigger role. Little did she realize at the time how big a presence she would get.
During the Q&A, someone asked the two Draper wives if Don can ever be happy with another person. Jones handled it well when she pointed out that first Don has to be happy with himself.
What They Said
"I don't think it would have been the same show" if HBO had accepted it.
– Matthew Weiner, a former "Sopranos" writer, can't help but wonder "What if"
"I really feel like a lot of what I get to do is a separate show."
– January Jones has to operate on the quiet homefront while the others gallivant around the office
"The idea that I could write this much, I didn't know I could do it."
– Matthew Weiner says that he never imagined writing a seven-season show ("Mad Men" will go off the air after next season)
"Am I wrong?"
– Jessica Pare reacts to Matthew Weiner's perfectly-timed cough into his microphone while Pare guesses what happens to Don Draper
"The advertising is there to support the story."
– Matthew Weiner has had advertising executives compliment how well he can write a pitch, a talent he says is "rigged" to his needs

What We Thought
Caryn James did a fine job in the role of moderator, but it was a stellar panel, led by Weiner, that soared here. On a couple occasions, James tossed softball or standard questions at the panel, and they replied by throwing them back at James, a sign of a late leg of a long New York City media tour. James took it all in stride and kept on chugging, to her credit.
The show may be his baby, but Weiner still impressed us with how well he can cite names and numbers of episodes. He's an encyclopedia of knowledge of famous lines and scenes and details we've learned on the show.
PANEL RULES
Some audience behavior seems to repeat itself panel after panel. We'll be updating a running list of "PANEL RULES!" that will help ensure that you are not the dweeb of the Panel Nerds.
Panel Nerds don't like…Technological Shtick
We've been to many events at 92Y, and we've seen questions emailed in from other viewing parties before. But we'd never seen a pre-taped interview with a man on the street like we did this time. For the fhe first question, the venue aired a man standing outside the cultural center, asking his best question of the panel. It was unclear to anyone if the man had made it inside or if he'd be hearing the response to his question. This structure threw the panelists and didn't exactly enthrall the audience. From now on, let's keep the questions to those who are inside and in attendance. They earned their right to raise their hands by showing up.
Have a tip we should know? tips@mediaite.com