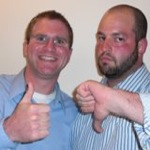 Who: Dan Rather (Dan Rather Reports), Marcy Wheeler (EmptyWheel), Jane Mayer (The New Yorker), moderated by Victor Navasky (The Nation)
What: The Nation's "What Will Become of the News?"
Where: Symphony Space
When: September 23, 2009
Thumbs: Up
With three leaders in three separate media branches at his disposal, moderator Victor Navasky didn't limit the agenda for the evening. Instead, he kept it open-ended and tried to address the question of the evening: What's in store for the future of media?
Marcy Wheeler, who blogs at FireDogLake, immediately defended her medium in the face of traditional journalists. She distanced herself from other breeds of bloggers, saying that political bloggers have become more mainstream, accepted and reliable. In the most recent election, she said, bloggers like Nate Silver and a few Alaskan reporters contributed some of the best coverage. Bloggers, she argued, have changed the way pollsters and reporters approached their assignments.
A source of contention quickly emerged though, when Wheeler suggested that her readers serve as her fact-checkers. Jane Mayer, who said she's endured her share of 10-plus hour sessions of New Yorker fact-checking, objected to this practice. She said that journalists who make mistakes, regardless of whether it is on a blog or in a publication, undercut the authority, accountability and credibility of all journalists.
Dan Rather argued that there has been a distinct drop in the quality of journalism, though he doesn't blame bloggers in particular for the decline. Rather indicated that what concerns him are the diminishing values and leadership of news organizations. He says that the powerful — corporations, lobbyists, politicians, governmental departments — have become even more intimidating, leaving media outlets on the outside looking in.
Bloggers, in this way, seem to have an edge on reporters who must answer to editors and owners before conducting an investigation. Cost is a central issue, as investigations have widely been labeled as luxury items that few can afford to fund today. The immediacy that qualified political bloggers bring to their projects carries weight that even a skeptic like Mayer recognizes. Still, she stressed that there's a certain beauty to a well-researched and crafted piece of traditional, long-form journalism.
What They Said
"It's not just about getting the little facts right, it's about getting the truth right."
– Jane Mayer suggests that bloggers can't compete on accuracy
"Most of us when we were 17, 18, 19 years old knew less about the news than we'll try to convince you we did."
– Dan Rather grew into his role as a trusted source for world news
"The notion of credibility and what gains you credibility is changing."
– Marcy Wheeler contends that bloggers do a better job reading through court documents than reporters do. She thinks reporters can learn from bloggers' initiatives
"There are vertebrates in Congress who have no backbone."
– Jane Mayer said that it has become increasingly more difficult to get politicians to go on the record with her. It's probably also more difficult for politicians to stand, walk, live, and do other backbone required activities
"Normally the moderator will tell you not to make statements but to ask questions. Tonight you get to make statements."
– Victor Navasky proudly told the audience that their admission fee would grant them the perk of not being shushed, though it does not grant you the perk of not being cited in Panel Rules
What We Thought
Mayer claims that there's a lasting post-9/11 pressure that applies a fear factor to both reporters and citizens. She says that it has allowed both the current and past Presidents to push National Security as a means to justify errors of judgment and other embarrassments. It has also left many in Washington fearful of speaking to reporters who might wind up challenging the government's agenda.
We appreciated Navasky taking a moment at the end of the panel to share his conclusions from the evening's panel. The fact that he had scrawled notes during the panel demonstrated how he, a veteran journalist and educator, knows there's a lot left to learn and resolve.
PANEL RULES!
Some audience behavior seems to repeat itself panel after panel. We'll be updating a running list of "PANEL RULES!" that will help ensure that you are not the dweeb of the Panel Nerds.
Panel Nerds don't like… Academicrophoners
Yes, we know that you were given approval by the moderator to sound off about whatever you wished. But when you spend a couple of minutes educating us about the history of media regulations and restriction on monopolies, we wind up daydreaming like we we're back in Mrs. Mei's 6th grade history class. The question itself was good, but we could have done without the detailed account of every business decision media conglomerates have made over the past 100 years.
Panel Nerds Etan Bednarsh and Danny Groner are New York-based writers and avid panel-goers. Want them at your panel? Email them here: PanelNerds@mediaite.com
Have a tip we should know? tips@mediaite.com