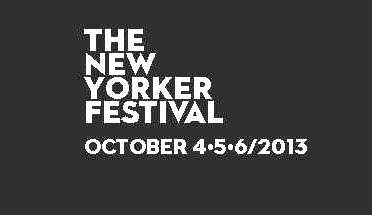 Who: W. Kamau Bell, Armando Iannucci, Robert and Michelle King, Shonda Rhimes, moderated by Emily Nussbaum
What: The New Yorker Festival's "Television and Politics"
Where: Florence Gould Hall Theater
When: October 6, 2013
Thumbs: Way Up
It became incredibly obvious from the 90 minutes you watched of this panel of showrunners why their television series are so popular, addictive, and smart.
What's remarkable, though, is how interested TV viewers have become in watching shows that cover politics. W. Kamau Bell believes that it first started to happen leading up the 2008 election, when Obame made politics seem cool. There was a certain energy and excitement that has carried through on TV ever since. Shonda Rhimes pointed to the optimism of a series like "The West Wing" which showed a kind of reversal from the Bush administration at the time the series aired. With Obama in power and the optimism that surrounded him, Rhimes said that cynicism naturally followed on the small screen.
As some series began to embrace politics, networks had to respond, said Michelle King. It's no longer labeled "poison" by the networks, and they're willing to take a look at these shows. Cable has made network executives more open to telling other types of stories, Rhimes and Robert King agreed. Bell grew up thinking about race and culture, and has seen how it's intersected with politics. Still, he says, he remains focused on "the people and the movements," and not what's happening in Washington, D.C.
Emily Nussbaum did a wonderful job probing about what happens inside the writers' rooms on these series, and how they get politics so right. Robert King said that they try to achieve balance, and the best way to recognize they have it is when "fury" and heavy arguments turn up in their room; that's what dictates what, and how, they write. However, Armando Iannucci joked that he doesn't think right-wing people do jokes. That doesn't mean they're unrepresented altogether, though. Rhimes created a conservative president for "Scandal" to avoid the perception of comment about this administration. Iannucci did the same with his female VP, but people still have tried to line her up with existing female politicians.
Nussbaum's love for TV is always welcomed. She noticed that all of these dramas covered at the panel featured female main characters. In their responses, the panelists said that they follow the trail of the main character's development, and the gender choices open up further intrigue. Bell called himself a "watcher" of these shows and complimented the others on jobs well done. The rest of the room agreed silently.
What They Said
"When you asked that question, I wondered 'Am I even into politics now?'"
– W. Kamau Bell wonders whether he's playing the same game as the others
"Having a room that could talk to both sides was important."
– Shonda Rhimes addresses striking the right balance

"What's been interesting about doing this show is that it's very hard of the Clinton marriage to not come up."
– Michelle King says it's only natural for people to make connections between fantasy and reality
"We're trying to come up with farce and absurdity… and then we hear from people in DC asking 'How'd you find that out?'"
– Armando Iannucci accidentally stumbled across some well-kept secrets
"Politics is not just something we can point to DC as where it happens."
– Robert King covers the lower-case form of politics

What We Thought
A young crowd turned out for this event, one of the last of the Festival weekend. It reflects the wonderful way that this storied weekly publication has brought in the new generation of millennials by giving them a topic they'd love. The New Yorker has performed the same service and solution as some of these showrunners.
For the purposes of a good, wide shot, the seats at this panel were set up far apart from one another, with tables between each pair of seats. It allowed the panelists to face forward, toward the audience, but also led them to be a bit strained as they tried to direct remarks toward one another. Thankfully, the panel overcame the physical distance by paying attention and responding accordingly.
PANEL RULES
Some audience behavior seems to repeat itself panel after panel. We'll be updating a running list of "PANEL RULES!" that will help ensure that you are not the dweeb of the Panel Nerds.
Panel Nerds don't like…Obsessive Fans
Some members of the audience took the Q&A as an opportunity to ask the showrunners where their series were headed next. As if they were going to tell us… This would have been a good time to hone in on what you love about the show that keeps you coming back to it, not where it's headed. In addition, for those who don't watch all of these shows (Disclosure: We don't), these questions created a split between the avid viewers and those who haven't gotten to that particular show yet. As an alternative, we recommend this: Keep calm and see what's on.
Have a tip we should know? tips@mediaite.com