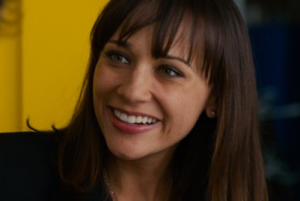 Who: Rashida Jones, Will McCormack, Lee Toland Krieger, moderated by Alison Bailes
What: "Celeste and Jesse Forever"
Where: 92Y Tribeca
When: July 31, 2012
Thumbs: Up
The panel members were charming, funny, and real in a way that every filmmaker hopes for with his or her fictional characters. Bailes, for her part, was impressed with what she'd seen of "Celeste and Jesse Forever" — this screening was actually her second viewing of the new film — and she raised questions that got the writers/actors and the director to delve deeper. It was, however, a case for us where hearing the creators discuss the film was drastically more interesting and entertaining than the film itself.
Jones and McCormack displayed a certain chemistry and closeness that spoke well of them, and their project. In the film, Jones plays the leading role next to Andy Samberg, another friend of hers. They all knew that the romantic comedy genre was well-trodded territory so they set out to try to make something else, something different. Moreover, they had a small budget and tight production schedule to work with that made everything "an adventure." as director Krieger called it. They all wanted the same thing: to be "honest about heartache," McCormack said.
To achieve that, Jones and McCormack both drew from their experiences, however painful or embarrassing. Jones acknowledged that through the writing of the script she worked through some feelings about her exes and reasons for her breakups. Though the cast is made up of a stellar comedic team, the movie aims to be about bigger issues and the problems that develop in relationships when we take others for granted or perhaps even know them too well. Samberg plays a slacker who Jones' character loses patience with. Bailes took the opening to push the actors to consider why we've seen a rise in these types of characters (particularly male ones) in recent years, a topic that everyone agreed should be investigated at greater lengths.
We'd happily sit in on that conversation if it continues at other press events or somewhere else in the future. No matter how the movie performs in its opening weekend, Jones and McCormack are on the right track.
What They Said
"If you want to play something, you're got to write it."
– Rashida Jones branched out as a leading lady

"I don't think anyone is better at he 30-year-old man-boy."
– Lee Toland Krieger praises Samberg's acting ability and explains why he insisted on getting the "SNL" performer for this role
"I know so many sharp, driven women and they date underachieving men."
– Will McCormack thinks that viewers will identify with the main characters' relationships and shortcomings
"You work such long days you don't want to work with assholes."
– Rashida Jones discusses her approach to casting

"Luckily they couldn't afford anyone else."
– Lee Toland Krieger gets self-deprecating when discussing his passion for this project
What We Thought
Bailes turned the night around for us. In just a half hour, she managed to get the panelists talking about a range of different topics related to this film, Hollywood, and other overarching issues within both. It's no small feat, particularly during a busy press tour when the actors have likely gotten the same generic questions over and over again. Bailes breathed new life into these types of events, and it was clear that the panelists appreciated it just as much as the audience did.
It was refreshing to see these three getting along so well. This movie took a long time (four-plus years) to get to theaters and had some ups and downs along the way. They shared private jokes from their time writing the film in 2008 and filming together last year. We wish more people would show their true selves on stage the way this trio did.
PANEL RULES!
Some audience behavior seems to repeat itself panel after panel. We'll be updating a running list of "PANEL RULES!" that will help ensure that you are not the dweeb of the Panel Nerds.
Panel Nerds don't like…Callhogs
You rush to get called on first, and the moderator grants you that privilege. But that does not give you the right to hog the mike for the rest of the time. It can be exciting to be able to ask all of your questions at once and to respond to the actors once they've answered; please remember though that others are waiting nearby to take a turn. Respect others and we'll learn more from different perspectives and inquiries. If you turn yourself into a second-rate moderator screaming from the bleachers, we all lose out on the opportunity to take as much home with us.
Have a tip we should know? tips@mediaite.com