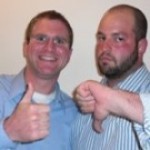 Who: Ruth Bader Ginsburg interviewed by Nina Totenberg
What: Supreme Court Justice Ruth Bader Ginsburg
When: January 28, 2010
Where: 92nd Street Y
Thumbs: Up, in the Majority
The walls of Kaufmann Concert Hall at the 92nd Street Y are adorned with the names of some of history's greatest thinkers: Jefferson, Shakespeare, Maimonides. When Ruth Bader Ginsburg joined them on stage, she fit right in.
The assembled crowd, overwhelmingly made up of people within Ginsburg's demographic, gave the justice a standing ovation when she entered, and the palpable excitement never died down. Justice Ginsburg was interviewed by NPR's legal affairs correspondent, Nina Totenberg, her longtime friend. Because of the women's social connection, the discussion skewed away from technical discussion of decisions and toward personal topics that provided insight into the life of a Supreme Court Justice.
It's difficult to think of the justices as regular people, but they are. Although Ginsburg expressed her dismay over the court's recent decision about campaign finance reform, she also added that after the decision's announcement, all nine justices had lunch together and talked about sports and their grandchildren – not about campaign finance. She also spoke about her friendship with Justice Antonin Scalia. Many who follow the Supreme Court would view Scalia and Ginsburg as liberal wing-conservative wing antagonists, but Ginsburg is clearly fond of him. She described him as charming and funny. She also shared an anecdote that sums up the "collegiality of the court," a term used often by Ginsburg. The night of Bush v. Gore, Scalia called to see if Ginsburg was alright. She wasn't. But the fact that he cared enough to call her demonstrates unseen inner workings of those who make up the highest court.
Ginsburg, speaking deliberately but engagingly all night, also stressed the importance of having women on the court. She said it was crucial to have more than one woman (she was the sole woman on the court for three years between Justice Sandra Day O'Connor's retirement and Justice Sonia Sotomayor's appointment) so that people don't think that women are all identical in thought and approach. Having multiple women express different opinions is a way to demonstrate diversity. In an argument for further diversity, she said that during the time she shared the bench with O'Connor, once a year a lawyer would call her "Justice O'Connor" or call Justice O'Connor "Justice Ginsburg." No one has called her Justice Sotomayor so far.
Much of Justice Ginsburg's passion stems from personal experience. Despite finishing at the top of her class, she got no offers to work at any big law firm because she was a woman. But she said she is thankful for the experience, explaining that she never would have guessed how it would all turn out for her.
What They Said
"This year it was my colleague Justice Stephen Breyer…he was not as effective as my colleague Justice David Souter – at the first sign, he'd give me a solid pinch."
Ruth Bader Ginsburg says that the justices have dinner and drinks before the State of the Union address, so she sometimes needs a little help staying awake
"Did they expect that the U.S. would look like what it does? I think they did."
Ruth Bader Ginsburg believes that the founding fathers were planting seeds for ideas they knew they wouldn't see flourish
"When it was 3:00, I cried. And then it was over."
Ruth Bader Ginsburg got emotional while discussing eleventh-hour pleas in death penalty cases. Her first case was the hardest
"You should have told him to go home and take a cold shower."
Nina Totenberg's suggested retort to Justice Scalia's post-Bush v. Gore phone call where he concernedly told Justice Ginsburg to "go home and take a hot bath"
What We Thought
Note to all panelists and moderators everywhere: In discussing the Lilly Ledbetter decision, Ruth Bader Ginsburg stopped herself to provide necessary background to the case, making the discussion accessible to all in attendance. Nina Totenberg also provided context many times over the evening. Moderators/ Panelists – If Justice Ginsburg can do it, you can too. Always give background!
We think of the court as philosophically rigid, not a place where people can have their minds changed. But Justice Ginsburg shared a story (she would not reveal which case) in which she began writing the dissent for a 7-2 decision. By the time she finished, the decision was 6-3. And she was in the majority. She had changed 4 justices minds. That gave us some hope.
We loved that Justice Ginsburg had the constitution with her and at one point pulled it out to read a section. It's good to know that she actually cares as much as we would wish her to care.
PANEL RULES!
Some audience behavior seems to repeat itself panel after panel. We'll be updating a running list of "PANEL RULES!" that will help ensure that you are not the dweeb of the Panel Nerds.
Panel Nerds Don't Like…Injustice!
We'd normally let it slide, but we were inspired to fight for rights. So we will speak up for audience rights. The 92nd St. Y collected questions on index cards from the audience, but worse – they also took questions submitted online. Your audience showed up and provided the atmosphere. Let them speak! Let them speak! Let them speak! (You're all chanting along with us, right?)
Have a tip we should know? tips@mediaite.com