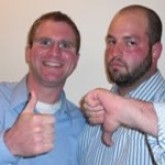 Who: Jon Meacham (Newsweek) in conversation with Sam Tanenhaus (New York Times)
What: The Cooper Union's "Sam Tanenhaus: The Death of Conservatism"
Where: The Cooper Union's The Great Hall
When: September 30, 2009
Thumbs: Up
On a night where the topics of art and technology were supplanted by concerns over current national and world affairs, The Cooper Union university students vacated their lecture hall and left it in the hands of another generation. Although we would have liked to have seen a more significant student turnout, the venue for this conversation was ideal. Like adept professors, Meacham and Tanenhaus covered the historical context for the current state of conservatism, and solicited opinions and observations from the engaged and well-read crowd. As they discussed the future directions of politics, it felt as though the pair was running an advanced level political science class.
Tanenhaus offered significant overviews — and previews of his book — to bring the audience up to speed. While Tanenhaus' oration tended toward verbosity, it reflected the vast knowledge he has accumulated on subjects like the role of the New Deal in framing modern conservatism.
When Meacham asked him to summarize what it meant to be a conservative today, Tanenhaus explained that conservatism has evolved into a brand of radicalism that calls for a rejection of the liberal policies or norms in place today. It's that radicalism, he says, that has brought the elderly to more conservative views and rallying cries. Supporters of Glenn Beck and those who align with the teabaggers largely come from older Americans, who have lived through communist scares. Allegations of socialism resonate differently with them.
And conservatives like Sarah Palin, he says, may be able to remind them of an era when family values played a more significant role. Tanenhaus pointed out that while the elderly tend to vote with Medicare and Social Security, two Democratic-led programs, Sen. McCain got that population's vote in the recent election. It seemed that the audience on hand was similarly conflicted. Though Tanenhaus may not have resolved anyone's debate, he most certainly sharpened the understanding of their doubts.
What They Said
"This is what conservatism has become: It's a declaration of cultural warfare."
– Sam Tanenhaus says that conservatism today has become mostly about undoing a liberal society
"I am a little obsessed with Iran right now because the regime has imprisoned one of our writers since the 21st of June."
– Jon Meacham reveals he has a personal stake in current world affairs
"I think we've actually become a nation that views all of its politics as movements."
– Sam Tanenhaus is concerned that social movements are too heavily guiding people's political stances
"I'm just going to say it this way: Sarah Palin."
– Jon Meacham struggled to come up with the right way to bring up the conservative former Alaskan governor
What We Thought
There's no denial that Meacham and Tanenhaus' prior friendship contributed to this panel. We enjoyed listening to them compliment each other's arguments and questions, we couldn't help but wonder if they regularly converse with such compliments and dramatic shows of respect.
Hearing Meacham begin a sentence with "In 1827 comma" allowed us to knock another item off of our bucket list. As impressive as the retention of information these two men have in their minds are their abilities to recall details and dates off the cuff.
We particularly liked the way that Tanenhaus made Burkean philosophy understandable by relating it to how President Obama has handled the health care debate. It sent a strong message to the crowd that conservative values can be adopted by pragmatic, even liberal, leaders. It showed how some sound ideas can cross party lines.
PANEL RULES!
Some audience behavior seems to repeat itself panel after panel. We'll be updating a running list of "PANEL RULES!" that will help ensure that you are not the dweeb of the Panel Nerds.
Panel Nerds don't like… Obamania
Yes, President Obama has a dynamic personality. Yes, the President is black. Those are undeniable facts that matter to discussions of race in American politics. This event, on the other hand, was specifically supposed to focus on the past, present and future of conservatism in America. Honestly, it would have been better to ask about President Zachary Taylor instead. Seriously, we don't know a lot about him.
Panel Nerds Etan Bednarsh and Danny Groner are New York-based writers and avid panel-goers. Want them at your panel? Email them here: PanelNerds@mediaite.com
Have a tip we should know? tips@mediaite.com