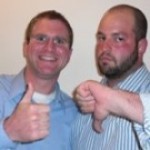 Who: David Plouffe
What: Book event for "The Audacity to Win"
Where: Barnes and Noble Union Square
When: November 3, 2009
Thumbs: Up


It takes less than a minute of watching David Plouffe to recognize how effortlessly he and Barack Obama could strategize together. Plouffe instantly took command of the stage and of the crowd, clutching the microphone and calmly pacing to make eye contact with every onlooker. His stage persona was so strong, it led us to consider whether he'd taught Obama similar tactics, or vice versa.
There was more to Plouffe than his Joel Osteen-like stage presence, as he also supplied substance and insight into Obama's campaign. This event, taking place on election night one year later, helped people recall the spirit of Obama's movement. Plouffe encouraged audience members to find inspiration and to get active again in local politics and volunteering. He said that more change — and quicker results — can happen inside communities than through legislation.
Attempting to inspire the crowd at a book signing is far from the norm, but Plouffe repeated last night that it was the unconventional approach that ultimately won Obama the election. Plouffe knew, for example, that if the same voters who came out in favor of Kerry in 2004 would return in 2008, Obama didn't stand a chance to win. Instead, he rallied for often overlooked groups: young people, blacks, and independent voters. Plouffe's organizers and volunteers recruited voters at diners, schools, and even bars. Word of mouth and social media sites, they decided, were their best options to change the political game.
At the same time, Sen. John McCain and the Republican National Committee took to the airwaves with more traditional advertisements and agendas. Rather than push one message in one location for the day, Obama used e-mail, texting and his Web site to correspond regularly with his volunteers and potential backers.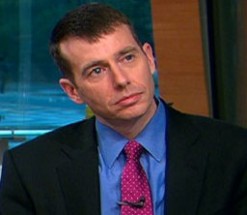 One of the things that Plouffe credits for Obama's rise in popularity is the impact that young, passionate people had on their elders. That mixture of generations was back together at this event, a year later, to show they're still rallying behind their candidate.
What They Said
"We studied history but we weren't bound by it."
– David Plouffe and his team set a new tone for presidential campaigning
"All of us thought we were signing up for a one-year enterprise, not two."
– David Plouffe reminded us how substantial a lead Sen. Hillary Clinton had on Obama in the fall of 2007
"It was less the dollar amount as much the people who were giving."
– David Plouffe said that the average donation Obama received was $85
"All we cared about was the end result, not the day-to-day battles."
– David Plouffe on the attitude of the campaign, an attitude that seems to have carried over to the presidency
"I think, in more ways than not, we were playing chess and Senator McCain was playing checkers. Washington is a town full of checkers players."
– David Plouffe believes that Obama made words like "nuance" and "complexity" less scary coming from a politician
What We Thought
We've read on several occasions that when McCain selected Gov. Sarah Palin as his running mate it was Obama who told his staff to hold off from attacking her. So it comes as no surprise to us to learn that Plouffe was "offended" by McCain's selection. It was strong language, but faced with Plouffe's position it could very well be justified.
Plouffe described the recklessness that he sensed in McCain's campaign. He said that Obama's steadiness became even more alluring to voters as a result. If they would lose, they'd lose on one strategy, not five, Plouffe said.
PANEL RULES!
Some audience behavior seems to repeat itself panel after panel. We'll be updating a running list of "PANEL RULES!" that will help ensure that you are not the dweeb of the Panel Nerds.
Panel Nerds don't like… Audiobooks
This was a first for us. An older woman had a good question to ask. Only it wasn't hers. She read it out of a local newspaper that had done a referendum of Obama's first year since his election win. Rather than summarize what the article contained, she gave the full report followed by "What do you think?" We have newspapers for reading, brains for thinking, and mouths for talking. Summarize the point made in the piece, Give us the lowdown of what is interesting about it. Otherwise, you run the risk of us taking a nap while you read us a story.
Have a tip we should know? tips@mediaite.com