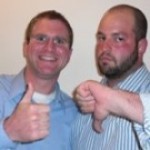 Who: Wes Anderson and Noah Baumbach
What: Live From NYPL's "Wes Anderson & Noah Baumbach: The Fantastic Mr. Fox"
When: November 9, 2009
Where: New York Public Library's Celeste Bartos Forum
Thumbs: Up. Ideally, drawn through stop motion.
Wes Anderson said that working on Fantastic Mr. Fox, an animated film, was different from his other movies because it was a longer and a more peculiar process, and rather than concentrating on one spot in the story, it bounced around a lot. We could say the same about the conversation between Anderson and Noah Baumbach versus other panels. The discussion was longer, stranger, and more topically scattered than most, yet it was consistently enjoyable.
Baumbach and Anderson touched on many topics, ranging from when they decided to write Fantastic Mr. Fox, to discussions of previous works, to the importance of the film Taxi Driver for men of their age, and even a story about Keith Richards and Eric Clapton. Because Baumbach and Anderson are prior friends, the discussion moved fluidly and did not feel forced – even when it was forced (including abrupt transitions like "What's next?"). Without a moderator to police them, the two took turns asking each other questions and awkwardly found ways to splice in clips. Much like their films, the awkward moments felt genuine and fun.
Much of the conversation focused on technical movie making. The pair waxed about coverage, storyboarding, movie screening, writing, and animation. Anderson said he expected to write the film and then to hand it off to animators; he did not expect the process to be as long as it was. He said that it was the most involving movie he ever made. The ability to make puppets seem alive, he said, is a talent that he still doesn't fully understand.
The two then segued into a discussion about the importance of audience reception. Baumbach and Anderson shared stories of terrible experiences at movie screenings, and horrible reactions from fans and critics. It's clear that the criticism they've received has stuck with them, and that these films – as they should be – are highly personal. After establishing that they were slightly thin skinned, they turned to the audience for questions.
What They Said
"I was never more confident than when we made that film and never less confident than when we screened it."
– Wes Anderson said that even he walked out of the first screening of "Bottle Rocket"
"If they heard us talking about a meta death scene, they probably would have canned it right there."
– Noah Baumbach made it clear that this is not a film for children – assuming your child is not a fan of post-modernism
"I think it's very possibly true."
– Wes Anderson's explains why he keeps telling the press that "Fantastic Mr. Fox" was the first book he read
"Stealing things is harder than it used to be."
"Strangely, I know exactly what you mean."
– As they've gained fame, Noah Baumbach and Wes Anderson have found it more difficult to base characters off of actual people – like Steve Zissou, who was supposed to be Jacque Cousteau
"It's a very meta way to punch someone."
– Wes Anderson explained why he told a combative interviewer "If I was Oliver Stone, you'd have a broken jaw"
What We Thought
Wes Anderson possesses a matter of fact way of commenting on what has just transpired in front of him, or what he has just done. Watching Anderson, like watching Quentin Tarantino, it is very easy to see where his characters come from.
Anderson said that when they first screened Bottle Rocket, the audience rating cards were terrible, with the exception of one card, on which one girl left what Anderson termed "a dissertation." Six years later, a girl came up to him at an event to tell him that she was at the first screening of Bottle Rocket, and he said "I know exactly who you are." We're trying to figure out if that girl felt thrilled or scared. We'd like to think it was a combination of both.
If you've never been to an event at the New York Public Library, you should. Aside from the quality of their presenters, the room is beautiful and it has incredible acoustics. Every laugh line and ovation sounds like the greatest thing to have ever happened.
PANEL RULES!
Some audience behavior seems to repeat itself panel after panel. We'll be updating a running list of "PANEL RULES!" that will help ensure that you are not the dweeb of the Panel Nerds.
Panel Nerds don't like… Self Promoters
Look, we all have specific people we love. We all have personal luminaries for whom we travel to hear speak. The Panel Nerds have also asked specific individuals questions at more than one appearance. That said, we did not reference the question we asked the last time we saw them on a panel. It's cool to be a fan, it's even okay to be a fanatic; it's just unnecessary to point that out to everyone assembled.
Have a tip we should know? tips@mediaite.com