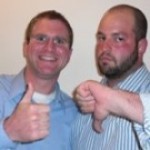 Who: Jeffrey Toobin, Calvin Trillin, Janeane Garofalo and Jonathan Alter, moderated by Andy Borowitz
What: The Andy Borowitz Report: Obama's First Year
Where: 92nd St. Y
When: January 27, 2010
Thumbs: Up
Host/moderator Andy Borowitz set the tone for the evening with ten minutes of stand-up comedy at the top of the event. It sent the message that this wasn't going to be the same old discussion evaluating the president's first year in office. It was a night with more laughs than sharp critique. And that's just what the crowd was looking for on the night of the president's State of the Union address.
Borowitz first invited Trillin to join him on the stage so Trillin could share his essay titled "Anticipating the Inauguration of Barack Obama." While whimsical in its design, the poem helped remind audience members just how excited the nation was at the start of the president's term. But rather than engage in a discussion about the disappointment and disillusionment now attached to Obama, this panel chose to emphasize his strengths and achievements over the course of his first year.
It was only Janeane Garofalo who showed her emotions – and passion – on her sleeve (her best quality). Jonathan Alter and Jeffrey Toobin came to Obama's defense when the criticism mounted – such as when Garofalo charged Obama still seeks bipartisanship while his enemies intend to destroy him, something Alter rejected as a lesson the president learned nearly a year ago after the fight for the stimulus bill. Alter was the resident expert on timelines and facts as he has just completed a book about Obama's first year in office.
Toobin commented that Obama's life should have been easier this year as he came in with 58 Senate democrats behind him. He pointed out that 30 years ago Republicans weren't as far right-wing as they are today and they negotiated deals with regularity but today are "against everything." Trillin was quick to point out that since Obama took office, his opposition made it their mission to derail all of his efforts.
Everyone agreed that Obama made mistakes and that some mishaps occurred over the year. But they wanted a break for at least one night from having to think about the serious issues that plague the world. Instead, they entertained each other and the audience with the lighter side of the debate.
What They Said
"Here we have a president who only escalated one war and he gets the Nobel Peace Prize. Think about how low the bar was set by President Bush."
– Jeffrey Toobin makes us wonder what escalating no wars would earn
"We've been more successful at convincing Sunni warlords than we have at Republican senators."
– Andy Borowitz is happy that the "Sunni Awakening" didn't have the option to filibuster
"It bothers me when people call the teabaggers populists. They're not populists. They're Foxulists."
– Jonathan Alter says tea baggers only watch the "most trusted" network
"Who would want to be the President of the United States, though?"
– Janeane Garofalo thinks there's something wrong with the position these days
"The problem with Hillary is she's not good with meter, and [Obama's] not good with rhyme"
– Calvin Trillin sees every person through the lens of poetic possibility and gives us an idea for a "Perfect Strangers" like sitcom
"The Republican party is dying. The Republican party is only succeeding because Obama hasn't succeeded yet."
– Jeffrey Toobin wants the Democrats to regain control over public opinion
What We Thought
Alter quoted Stephen Colbert and Trillin cited "The Daily Show" at different points. It's clear that not only are these comedy shows here to stay, they'll continue to impact the political sphere for a long time.
The panel spent a good portion of the discussion talking about filibusters and their influence on the passage of bills. What was once a last resort used by desperate southern senators is now part of the landscape of American government.
PANEL RULES!
Some audience behavior seems to repeat itself panel after panel. We'll be updating a running list of "PANEL RULES!" that will help ensure that you are not the dweeb of the Panel Nerds.
Panel Nerds don't like…Tangent Makers
We didn't like tangents when they were opposite over adjacent angles, and we sure as heck don't have patience for them now. This panel was about evaluating how Obama fared in his first year. That should be open-ended enough as the panelists covered the gamut – foreign, domestic, social justice issues. Whether Rahm Emanuel will run for mayor of Chicago is not of interest to the audience. Thankfully, Borowitz fielded the question himself assuring the asker with a confident "No" before moving on to the next pertinent question.
Have a tip we should know? tips@mediaite.com