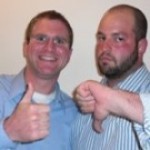 Who: Garry Trudeau, David Levinthal, David Stanford, and Owen Powell. Moderated by Roger Rosenblatt
What: Politics and Current Events Lecture Series: War in Afghanistan and Iraq
Where: The 92nd St. Y
When: January 26, 2010
Thumbs: Up, but could have been Upper
The portrayal of the wars in Afghanistan and Iraq through cartoons, blogs, and photography is such a fascinating topic – and the panelists are so uniquely involved in the subject – that the talk was enthralling despite a noticeable shortage of context for the audience.  "I had no idea I was the moderator," were the first words spoken by Roger Rosenblatt at the panel. In every conceivable panel scenario, that is the wrong beginning. Here is what he should have said to explain why these four people were brought together: All four of them contributed to the book "I. E. D. War in Afghanistan and Iraq," a work (edited by David Stanford) that combines photographs of toy soldiers in grittingly realistic scenarios (taken by David Levinthal), with blog posts from soldiers (like Owen Powell) serving in Iraq and Afghanistan. The posts are collected on The Sandbox, an off-shoot of Garry Trudeau's "Doonesbury" site where soldiers stationed abroad can send in their stories for mass consumption. It's an incredible project on its own merit; it also drives a great panel discussion because each presenter has his own contribution to manage and to dissect for the project.
We could begin our discussion with Levinthal, who first started photographing toy soldiers in graduate school for, "Hitler Moves East," a depiction of World War II using toys and models. Levinthal's art – of which a slideshow played during the discussion – is so jarring because it inserts play things into deadly serious depictions. Rosenblatt suggested that that strand runs through Trudeau's work as well. It explains why "Doonesbury" is so popular, and so potent, as Trudeau takes cartoons and has them address serious matters. Trudeau rejected this claim, saying that comics stopped being simple child's play with Art Spiegelman, but we tend to side with Rosenblatt's take. After all, "Maus" didn't appear next to "Family Circus." In either case, the juxtaposition of play and serious, fake and real, exists not only in Levinthal's (and possibly Trudeau's) work, but in the setup of the book itself.
Owen Powell said when he discovered "Doonesbury" it led him to start blogging under the nom de plume "Sgt. Roy Batty." (The fake name was to avoid being found out by the army, who was strongly discouraging blogging.) Whereas Trudeau and  Stanford see the site as a sort-of Global War on Terror Literary Magazine, Powell says for soldiers it's a way to make sure the troops' point of view is heard. It allays the most basic fear of soldiers: that nobody knows their story, nobody knows where they are, and that nobody cares about what they are doing. Access to technology and the ability to blog guarantees that their story is told.
The panelists discussed the sad truth that the wealth of access to information – to news and to first hand accounts – is not actually causing people to care more. Stanford said that when he began working in publishing, book companies wouldn't touch Vietnam stories. Now there are new books on Iraq every week. Trudeau claimed that more war news is available in a given day now than would have been accessible in a month during World War II. And yet, everyone agreed, people don't truly care. Without a draft, less than 1 percent of the American population has a direct relative in the military. And without skin in the game, it matters less. We hope that the work these four are doing will spark Americans to care just a bit more.
What They Said
"The toys are fake, man-made, and synthetic, but the writing is not… it's from kids that are actually living this stuff"
-Owen Powell explains what he loves about "I. E. D. War in Afghanistan and Iraq"
"We have emotionally outsourced the war."
– Garry Trudeau sums up the degree to which our everyday lives are disconnected from soldiers' sacrifices
"When the military switched from hummers to strikers, so did the toy makers."
– David Levinthal says everything about this war, from writing to model figurines, is happening in real time
"The trouble with having you on this panel is: What are we going to talk about?"
– Roger Rosenblatt characterizes how the audience felt about Owen Powell. He was engaging, insightful, and entertaining – the kind of person you are proud to have represent your country.
What We Thought
We had to sheepishly admit to ourselves that Trudeau is right about a lack of care about the war. We didn't even know about the entire world of milblogging before last night. We have already RSS'd to The Sandbox in hopes of keeping the soldiers closer to our minds.
We had to piece together the relationships as the discussion went on, and the first audience question – this is 50 minutes into the panel – was a request to introduce Owen Powell. Powell was both inquisitive and thought provoking. With the benefit of an adequate introduction, our thumbs would have gone up higher.
David Levinthal's Iraq and Afghanistan photography is currently being shown at the Stellan Holm Gallery through February 13th. We plan on seeing it and recommend the same to you.
PANEL RULES!
Some audience behavior seems to repeat itself panel after panel. We'll be updating a running list of "PANEL RULES!" that will help ensure that you are not the dweeb of the Panel Nerds.
And some panels don't have objectionable questions. Nice work, audience.

Have a tip we should know? tips@mediaite.com