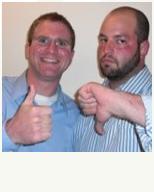 Who: Glynnis MacNicol (Mediaite), Caroline McCarthy (CNET), Jessica Grose (Slate), Anna Holmes (Jezebel), moderated by Rachel Sklar (Mediaite).
What: Gelf Magazine's Media Circus "Overlooked: Women in Media"
Where: JLA Studios Art Gallery
When September 10, 2009
Thumbs: Up
There's an inherent irony to promoting gender diversity by having only female panelists, but last's night Gelf Magazine panel was not about resetting the balance for this one discussion. The goal was to demonstrate to future conference planners and columnists that women offer a unique voice and belong on the panelist circuit. While acknowledging that workplaces have moved in the direction of becoming gender-neutral, moderator Rachel Sklar said that there is still a lack of female participation at public events and an underrepresentation of women in lists of accomplished people. Aloud, she wondered why that is the case and how can it be fixed.
Women must continue to speak up and step up to opportunities, the panel said. Glynnis MacNicol urged women in positions of power to take on the responsibility of helping others rise to the top. To this end, the panelists each shared names of women in the media they deem overlooked.
The panel offered several explanations for this media cultural imbalance. Anna Holmes said that most of the time women are forced to take whatever opportunities they can get, which often means working at women-focused magazines that aren't taken as seriously. Jessica Grose agreed, but cited a more systemic problem. She speculated that women pursuing positions of power may be sidetracked by editors encouraging them to reveal personal details in their writing.
Caroline McCarthy put a different spin on it. She believes that women, far more than men, prefer to stay out of the public eye. Holmes added that writing requires you to be confrontational and confident while many women tend to be apologetic and uncomfortable.
Social barriers are partially to blame but so is the harsh judgment of Internet trolls. MacNicol revealed that there's always a concern that responses will skip criticism of the details of your piece, and focus instead on the merits of your physical appearance. McCarthy worries that any differences of opinion between two women will be tagged as a bitch fight. Even if you escape being identified in that way, you can still be called anti-feminist.
Men don't face the threat that one public comment might earn them an undeserved and unwanted label. The only labels that men wear at panels have their names on them.
What They Said
"Women are hesitant to grab the bull by the horns and run with it."
– Glynnis MacNicol is disappointed more women aren't jumping at the opportunity to be heard online and on panels
"Because the pickings are so slim, no offense to my gender, women don't do as well."
– Caroline McCarthy says that sometimes underqualified or unprepared female panelists are chosen to fill a quota and wind up being sub-par panelists
"Letting them affect your work, unless you're factually wrong, is a mistake."
– Jessica Grose advises women to not read or care about comments left on blogs
"I think that there's room for everybody. I think we can make room for everybody."
– Anna Holmes fears that some women think there are a limited number of spots available for female writers, making them less inclined to help the next one
"I actually chose this panel based on how hot they were."
– Rachel Sklar mocked those who elevate looks ahead of ability. (We think…)
What We Thought
We enjoyed watching the way the panelists displayed genuine signs of friendship and admiration for one another. Holmes pointed to Grose as an example of someone who is helping to make positive changes for women in media. Community, for them, is valued ahead of competition. We doubt, for instance, whether a man on a panel would have complimented another's shoes.
It was interesting to see the way the panel dealt with talking about women ranging from Maureen Dowd to Julia Allison to Helen Gurley Brown. Each of these women contributes to the discussion of how the female gender is perceived in the media today. It shows how deep this discussion goes, and also how broad a range of women are impacted by the accomplishments and decisions of others.
PANEL RULES!
Some audience behavior seems to repeat itself panel after panel. We'll be updating a running list of "PANEL RULES!" that will help ensure that you are not the dweeb of the Panel Nerds.
Panel Nerds don't like… One Republic
When it comes to introducing your question, it's always too late to apologize. Don't preface your thoughts with a disclaimer that this might be a "dumb question." You shouldn't apologize for not already knowing the answer. If we already knew all the answers, there wouldn't be a need for a panel. And if there were no panels, where would that leave the Panel Nerds?
[Disclaimer: Mediaite's Rachel Sklar, who recruited us and who edits our columns, was one of the members of this panel. While she reviewed the post prior to publication, the opinions expressed were untouched and we were not edited for content. We decided to attend this panel on our own; that Rachel was one of the panel members speaks to our dovetailing interests, and we are in favor of anything that dovetails.]
Panel Nerds Etan Bednarsh and Danny Groner are New York-based writers and avid panel-goers. Want them at your panel? Email them here: PanelNerds@mediaite.com
Have a tip we should know? tips@mediaite.com