People Claim Disastrous Consequences With Gmail's April Fools' Prank Gone Wrong
In an effort to have a bit of April Fools' fun, the folks over at Gmail rolled out a cute if not bizarre prank of sorts called the "Mic Drop", a temporarily-installed widget that allowed users to send the definitive last word on an email chain. In essence, the button — as illustrated by the below photo — appeared in orange with a small microphone logo, and would allow users to send the message and, as the company described it, "…everyone will get your message, but that's the last you'll ever hear about it. Yes, even if folks try to respond, you won't see it."
Even cartoon Minions pop up into the box to further tell you about the joking addition: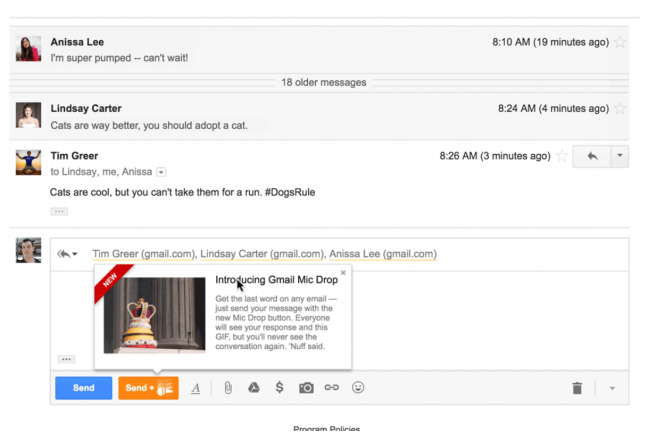 But Gmail quickly removed the prank feature after only a handful of hours in operation, once people began to complain about serious repercussions from using the Send + Mic Drop option.
One person wrote on the Google Help Forum:
"I just sent off an email with my resume to the first person who wanted to interview me in months. I clicked the wrong button and sent it with the mic drop. Well, I guess I'm not getting that job. Words cannot describe how pissed off I am right now. I'm actually shaking. One click, ONE CLICK and I lost the job. Goddamnit. Not funny, google. I'm going to go cry now."
But I call nonsense on all this. Google isn't in the wrong here — dopey people who aren't paying attention are. First of all, if you're applying to a high-pressure job that's meaningful to you that you "click the wrong button," there might be a good reason that you haven't gotten an interview in months. Maybe you're crying because you struggled to tell the difference between the standard blue "Send" button that's been there forever and a bright orange cartoon microphone that you've literally never seen.
And check out this jabroni, a self-described "writer" who likewise claimed he botched up the Gmail prank:
"I am a writer and had a deadline to meet. I sent my articles to my boss and never heard back from her. I inadvertently sent the email using the "Mic Drop" send button.There were corrections that needed to be made on my articles and I never received her replies. My boss took offence (sic) to the Mic Drop animation and assumed that I didn't reply to her because I thought her input was petty (hence the Mic Drop). I just woke up to a very angry voicemail from her which is how I found out about this "hilarious" prank."
You're a professional writer with deadlines and you sent an important article using the Mic Drop button? You deserve that voicemail. I'm sure Dan Abrams would be thrilled if I sent him my column but had to explain "Sorry I didn't see your notes. I clicked the clipart microphone and Minions gif instead of the normal Send button, you understand."
According to the Telegraph, the feature was removed from Gmail services after only about 12 hours. A spokesperson replied, "The MicDrop feature inadvertently caused more headaches than laughs. We're truly sorry. The feature has been turned off. If you are still seeing it, please reload your Gmail page."
Real nice, now no one gets to have fun because a few dodo birds fell for the prank. Publish + Mic drop.
[h/t Telegraph]
This is an opinion piece. The views expressed in this article are those of just the author.