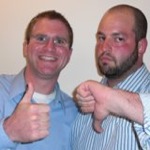 Who: Quentin Tarantino interviewed by Lynn Hirschberg
What: TimesTalks, "A Conversation with Quentin Tarantino"
Where: The Times Center
When: August 14, 2009
Thumbs: Up
"We love you because we know you love movies as much as we love movies."
Those were the opening words to the night's final audience question. If any in attendance were not aware of Quentin Tarantino's adulation for cinema before Lynn Hirschberg sat down with him, they certainly discovered it by evening's end. Tarantino not only loves writing and making movies, but he loves talking about his love for writing and making movies. And, if this audience's reaction is a reliable gauge, people certainly love to listen to him talk.
Tarantino was brought there to discuss his upcoming film, Inglourious Basterds. Hirschberg pointed out that the heroes in Tarantino's films are always anti-heroes, protagonists who possess villainous qualities. Inglourious Basterds, whose main characters are assassins – Nazi-killing Jews and Jew-killing Nazis – follows suit. Tarantino explained that he lets his characters be who they are, and he tries to see life from their perspective without judging their morality. The result, he hopes, is a different kind of World War II than moviegoers are used to seeing.
Those differences extend beyond just the movie's script and message. Tarantino focused a lot on language in this film, casting only German actors to play German characters to ensure that the dialect was accurate. He also made what Hirschberg, having seen an advanced screening, called a "very funny movie." This, Tarantino said, is actually closer to the films of the 1960s and 70s when World War II movies like The Great Escape were still charming, entertaining and witty, in spite of heavier undertones. It reflects the way that Tarantino can bring so much energy and excitement to conversations about films that grapple with revenge, violence and war.
What They Said
"With the possible exception of Jews, no one has revenge fantasies on the Third Reich like modern Germans."
– Quentin Tarantino on why his film was well-received in Germany
"You have to drink a lot of milk before you appreciate cream, but you have to drink a lot of milk that's gone bad before you appreciate milk."
– Quentin Tarantino explaining why he loves exploitation cinema
"Kill Bill exists in a movie universe…In that world, it's not a 'thing' that women can be powerful warriors – also, there are samurai sword holders on airplanes."
– Quentin Tarantino on the difference in filming Inglourious Basterds which is set in the real world
"I don't have children, I come up with characters. They are my children."
– Quentin Tarantino apparently birthed "The Gimp"
"World War II is the last time a whole bunch of white people fought another whole bunch of white people – you could infiltrate the other side, if you could speak the language."
– Quentin Tarantino made a pretty fair point about war
What We Thought
•    At one point during the talk, a muffled emergency announcement went out over the Times building's PA system. It was distracting. We half-suspected that Tarantino had arranged it to go off. When Hirschberg questioned him about it, he denied responsibility.
•    We've noticed it before, but it's always more enjoyable to listen to people who have previous ties and affection for one another – rather than relative strangers – talk on stage.
•    We don't know if there is anyone else who writes as organically as Tarantino. He says he does not plan subtext, doesn't analyze his writing for themes, and doesn't structure his characters.
PANEL RULES!
Some audience behavior seems to repeat itself panel after panel. We'll be updating a running list of "PANEL RULES!" that will help ensure that you are not the dweeb of the Panel Nerds.
Panel Nerds don't like… Campers
There will be time at the end for audience questions. There is no need to camp out at the mic at any point before then. This is especially true if your question is about Tarantino's relationship with Roger Avary, who, if you know enough to ask about Avary, you should know Tarantino won't answer you about it.
Panel Nerds don't like… Reruns
We know it's the summer, but there's still no reason to air a repeat question that the moderator has already asked. If you don't have a new question, it's okay to sit back and listen.

Related:
Quentin Tarantino's Top 20 Movies Since Reservoir Dogs [YouTube via Kottke via Fimoculous]
Twitter Coverage from @TimesTalks [Twitter]
Panel Nerds Etan Bednarsh and Danny Groner are New York-based writers and avid panel-goers. Want them at your panel? Email them here: PanelNerds@mediaite.com
Have a tip we should know? tips@mediaite.com