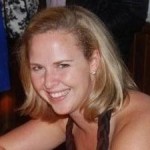 Last night while Rafal Nadal was changing his shirt after his match, a man ran out on court and hugged him. The way it was filmed it looked like it was a family member or something (and I think Nadal thought maybe it was too, the way he initially reacted) and then two security people pulled the guy away. Turns out, not a family member.
Although surprised, Nadal did not seem to be shaken by the incident, and even smiled as it happened.

"For me it wasn't a problem," said Nadal, noting that the man spoke in English. "The guy was really nice."

"He was a great fan," he said. "He said, 'I love you,' and he kiss me."

Nadal had just removed his shirt and was preparing for an on-court interview when the man suddenly emerged with a camera to approach him.
Small moment, but it was one that left me feeling really uncomfortable, and here's why: Because while everyone was good-naturedly comparing it to the time a gremlin pranced out and shook up Federer, all I could think of was the time a guy lunged out and stabbed Monica Seles.
I noted that earlier today on my personal blog. Turns out New York District Attorney Richard Brown agrees with me: Renegade kisser Noam U. Aorta is to be charged with trespassing, which will mean possible jail time if convicted.
District Attorney Richard Brown, however, called it "particularly disturbing" because Aorta made physical contact with Nadal. Brown noted that Monica Seles was stabbed in the back in 1993 by a spectator on a tennis court in Hamburg, Germany.
Security at Arthur Ashe Stadium will surely be on high alert this evening, and with good reason: the only unexpected run that the fans want to see is that of national treasure Melanie Oudin, straight into the semifinals.
Roger Federer Gremlin Attack:
Monica Seles Stabbing:
Katie Baker has contributed to Gawker, the Yale Daily News, Young Manhattanite, and US College Hockey Online. Her blog can be found here. She also has a day job.
Have a tip we should know? tips@mediaite.com