Rick Santorum Has Figured Out What The Tea Party Hasn't: How To Do Anti-Elitism Right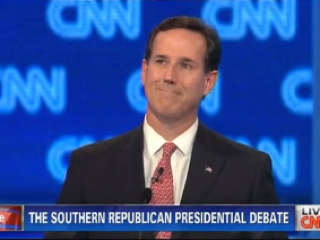 The final Republican debate before South Carolina had, to put it mildly, its moments. But of all the plot twists and heart-stopping verbal sniping of Thursday's debate, it was the bold eloquence of goofily uncomfortable Peter Sellers character Rick Santorum, the long-standing (at least before Iowa) afterthought of the 2012 campaign, that stole the show in launching a few perfectly-placed stones from his slingshot at Goliath of grandiosity Newt Gingrich.
It is difficult for one who believes in small government in all capacities to admit that Santorum landed a perfect blow last night. This is a candidate who won Iowa by promising to micro-manage the private lives of every American, who openly sings the praises of earmarks and doesn't understand what the Internet is. While many argue– with a fair amount of backing– that he is one of two only true "ideas" candidates, many of those ideas are unsavory and badly thought out. But he won no particular points on policy during this debate, as he has in debates past, but for style.
RELATED: Rick Santorum Takes On Newt Gingrich's 'Worrisome Moments': 'These Are Not Cogent Thoughts'
In the most earnest and plastically tender-hearted way, Rick Santorum told Gingrich, to his face, why anyone with even a modicum of understanding of how true intellectuals speak and behave would find the former Speaker an aberration: he is a delirious megalomaniac– almost sociopathic– unfeeling towards others and possessed of an ambition so toxic it robs him of the foresight and wisdom decades of political experience should have granted him. And it was not in his starkest words that Santorum lay into Gingrich so viciously, not in saying that his thoughts were "not cogent" or in coining the most succinct truism about this bizarre character to have come out of this campaign: "Grandiosity is not a problem with Newt." He didn't quite have Gingrich reduced to ashes by reminding the audience that he had "no discipline, no ability to pull things together" as Speaker of the House.
It was when he expressed a sense of concern for Gingrich, when referring to him as a "friend" and saying, "I love him, but at times he has that, sort of, worrisome moment that something is going to pop." "Newt's a friend; I love him." How sweet. Santorum was not worried that Gingrich was insane– though, of course, the implication is rather obvious. Santorum was worried that Gingrich had striven to become an elite for so many years that he finally had done so: he had become the splitting image of the painting conservative believe resides in Barack Obama's attic.
Sure, Paul Krugman, like all broken clocks, was right at least once when describing Gingrich as a "stupid man's idea of what a smart person sounds like," and Peggy Noonan came up with the description of the century when perfectly pegging him as an "angry little attack muffin." But the downturned noses of Sunday morning regulars are not a particularly surprising image in relation to a charlatan like Gingrich. They are, for all intents and purposes, elites.
RELATED: New Mitt Romney Ad Calls Gingrich Undisciplined, Says He 'Helped Re-Elect A Democratic President'

But Santorum's attack, so personal and cruel in its accuracy, goes after Gingrich in a manner someone who would find Sarah Palin's attacks on the "elites" concerning can embrace. He did not dismantle Gingrich for writing many books or knowing things, the way many of the anti-Obama Tea Party supporters do– and the way Santorum has attacked the President in the past. Santorum was not attacking from the position of one of many invidious professional small-time media shouters who fell upwards into cable news pseudo-celebrity and could never stand (or understand) just how that suspicious "Obama" built a reputation for being so gosh-darned smart– after all, nothing says "dumb" like a resume full of leadership positions in community aid groups and a Harvard degree! Santorum is a scholar in his own right. He was attacking Gingrich for being a charlatan, an dilettante, a politician whose public attitude was so astronomically out of touch with the reality of his intellectual shortcomings that he was unceremoniously defenestrated from the most powerful position in Congress. In so many words, Santorum challenged Gingrich to prove to us he was not the political equivalent of Miss Cleo.
And it was the most lovely moment of Santorum's campaign. Santorum, as true an everyman as one finds in politics (look at how adorably unpolished he was as a freshman Congressman! p.s. yes, that's Rep. Maxine Waters and Speaker John Boehner beside him), made us forget that this very fact renders him incapable of understanding many basic concepts of social order– it's what puts him what feels like somewhere to the right of the Pope on many social issues– and struck the perfect chord of anti-elitism that the Tea Party had been searching far and wide for since 2009. And he did it by hitting at the heart of what Gingrich is by hinting to precisely what he is not: an intellectual. The flaw in most of the attacks on President Obama is that they target him as an "elite" in a way that requires said "elite" to not be worthy of his positions.
The crux of most Tea Party arguments tends to be that the President just isn't as smart as Democrats would have you believe, that he doesn't deserve getting excused for a "57 states gaffe" or mispronouncing "Navy Corpsman" when Palin and company are routinely called idiots by the media. This argument routinely fails because the President doesn't demean people on a regular basis the way Gingrich does– nor does he lose staffers en masse like Gingrich has, or have major personal integrity issues. Nor does the President have to face the reality of a record of employment in Congress so contentious it rivals the media career of Keith Olbermann.
Santorum did not bother to attack Gingrich on individual gaffes– that always feels petty, whether against Vice President Joe Biden or Rep. Michele Bachmann. He did not go after his past as a professor or the 21 books he has written. Santorum, unlike the Tea Party in reference to President Obama, did not make an anti-academic or anti-knowledge attack on Gingrich but, rather, a pure anti-elite one: that, having lived so many decades in Washington and suffering from a crippling ego problem that reduced him to a catty puddle of bile, Gingrich isn't as smart as he thinks he is. And having someone so far on the American right (which bizarrely means being the most pro-big government candidate in the race– try explaining that to Europeans!) embarrass Gingrich so thoroughly goes a long way in crafting an image of Santorum as brutally honest, to himself as much as to anyone else.
Have a tip we should know? tips@mediaite.com