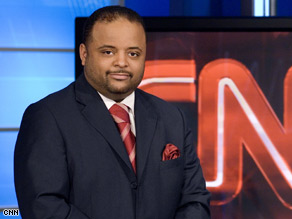 On Wednesday, CNN decided to suspend Roland Martin for his "offensive" tweets regarding David Beckham's underwear ad for H&M. One such tweet read: "If a dude at your Super Bowl party is hyped about David Beckham's H&M underwear ad, smack the ish out of him! #superbowl." In a written statement, CNN went on to say, "Language that demeans is inconsistent with the values and culture of our organization, and is not tolerated. We have been giving careful consideration to this matter, and Roland will not be appearing on our air for the time being." The Gay and Lesbian Alliance Against Defamation (GLAAD) advocated for Martin's dismissal shortly after the tweets went viral.
RELATED: GLAAD Demands CNN Fire Roland Martin Over David Beckham Tweet
I don't support the suspension, but I do see how the tweets could be taken out of context and seemingly support gay bashing. I have disagreed with Martin before, actually a few times. We have grown used to respectfully disagreeing with one another, and that's something our society could use more of. Let me say this: there is no excuse for advocating violence against anyone, particularly homosexuals, at any time. And it's not surprising that Martin's irreverent sense of humor and off-the-cuff style of tweeting could be easily taken out of context. He frequently jokes about violence, but that's far from advocating it. To wit, Roland's Cookout Rules, which detail how cookouts are "conducted at his house": "If your kid gets out of line, check 'em before I do. My house, my rules. Ass whippings are bountiful if they start disrespecting adults."
Martin wasn't advocating violence to gays any more than he was to children. But a cursory look at a random tweet plucked out of a long conversation can easily be misconstrued. And while one may not find him funny (after all, he's not a professional comedian), that doesn't mean his brand of comedy is offensive, or, worse, worthy of character assassination. Martin has consistently and fervently spoken out against sexism, racism, homophobia, and trashy reality TV shows that reinforce negative and demeaning stereotypes.
It wasn't until Martin offered a second (and some say more sincere) apology that GLAAD did what they should have done in the first place: offered to meet with him. Why rely solely on tweets to determine whether a man should lose his job without first hearing him out? There was no reason for that.
GLAAD Doesn't Practice What it Preaches
Look, I get it. GLAAD is fully focused on helping to rid our society of the type of homophobic, violent, and misogynistic remarks that have contributed to an environment where gay teens are cajoled, bullied, and are "three times more likely to be depressed than their heterosexual counterparts." We should all commend them for their diligence in such matters. No child should have to live in fear, and no parent should raise a child thinking it's okay to instill such fear in someone else.
So it's unfortunate that some of those same violent and misogynistic remarks that GLAAD fights valiantly to scrub from networks big and small are sometimes welcomed by GLAAD — depending on whom the remarks are directed toward and who is saying them.
In April a blog by the name of JoeMyGod won GLAAD Media's 'outstanding blog' award. Run by Joe Jervis, the blog is well-known for comparing conservatives to Nazis and having misogynistic comments littered in its comments with no hint of a moderator. Commenters rarely one-up Jervis himself, the epitome of civility:
"One thing about the kapo bootlickers at GOProud, we alway$ know where their prioritie$ lie," Jarvis wrote in regard to GOProud's support of the extension of the Bush tax cuts. The Daily Caller notes that "[d]uring World War II "Kapos" were concentration camp prisoners who worked inside the camps on behalf of the Nazis. Jarvis often tags articles about gay Conservatives with the word 'kapo'…."
It's unfortunate but understandable that GLAAD can't rid these horrible words from our society. But the least they could do is choose to not honor someone who spouts them on a regular basis. That much I think they can accomplish.
H&M Wasn't Courting Men
Never mind the fact that the David Beckham ad in question wasn't directed toward men. Dream Hampton, a prolific journalist, noted that 83% of social media mentions regarding the ad were made by women. This wasn't because men forgot to tweet that night. Research by a British retailer found something not too surprising: men traditionally buy their own underwear from age 19-23, from age 24 to 33 their underwear shopping decreases tremendously, and when they hit age 44 it's nearly nonexistent. All this to say what an H&M marketing intern could tell you: H&M was going after female shoppers, plain and simple.
GLAAD is a Bully
Even Hollywood, typically very supportive of GLAAD, has begun to tire of their antics.
In October GLAAD began a "call to action" asking its members to petition Universal and director Ron Howard because at one point in the movie The Dilemma, Vince Vaughn's character calls electric cars "gay." Howard refused to pull the scene, responding: "I don't strip my films of everything that I might personally find inappropriate. It is a slight moment in The Dilemma meant to demonstrate an aspect of our lead character's personality, and we never expected it to represent our intentions or the point of view of the movie or those of us who made it."
When Bruno, a satirical film about a flamboyant gay journalist, came out GLAAD's senior director of media programs said, "Sacha Baron Cohen's well-meaning attempt at satire is problematic in many places and outright offensive in others." Meanwhile Elton John agreed to sing a part in the movie and Aaron Hicklin, editor of Out, a gay and lesbian lifestyle magazine, said of the film: "[it does] something hugely important, which is showing that people's attitudes can turn on a dime when they realize you're gay."
See, GLAAD's problem is that they have become a victim of their own success. Instead of focusing on how they can organically change minds and influence our culture to become more accepting of the LGBT community (a very worthy mission), they're too busy overusing their influence to boycott, censor films, and have folks suspended and fired. What do these suspensions and firings accomplish? Who is benefited by such actions aside from GLAAD being able to claim another head on their Wall of Shame?
Just for the record, GLAAD, this rebuke isn't based on your views; it's based on your lack of principles.
Have a tip we should know? tips@mediaite.com